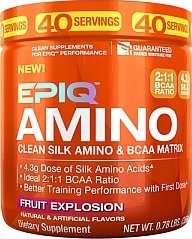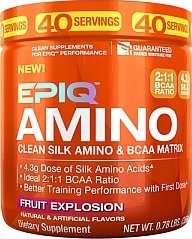 EPIQ
is a line of powerful, effective, and guaranteed clean supplements formulated for elite athletes who demand the highest quality for EPIQ performance.
EPIQ Guaranteed Supplements are:
Free of banned substances
Free of artificial colors or dyes
Free of harmful impurities
Free of undeclared ingredients
Developed with scientifically researched key ingredients
Manufactured according to current Good Manufacturing Practices (cGMP) standards, as is required for all dietary supplements
EPIQ AMINO – Clean Silk Amino & BCAA Matrix
Now you can get the most out of silk amino acids and BCAAs in one clean, great-tasting supplement. EPIQ AMINO provides a 4.3g dose of a scientifically researched Silk Amino Acid Sequence, and also offers BCAAs in the ideal 2:1:1 ratio to support protein synthesis and help reduce the amount of protein breakdown. EPIQ AMINO provides the support you need for better endurance and to get the most out of your muscles when you're working hard. Don't settle for amino formulas that only offer silk aminos or BCAAs on their own – get the advanced amino formula with EPIQ AMINO and perform at your best every time!
What Makes the Formula EPIQ ?
Powerful endurance results delivered during cardio training after just one serving.
Contains a 4.3g dose of scientifically researched silk amino acid sequence – the highest amount of silk amino acids per scoop!
Infused with the ideal 2:1:1 ratio of BCAAs (leucine, isoleucine, and valine) to support protein synthesis and help reduce muscle breakdown.