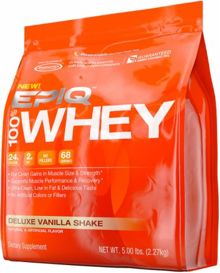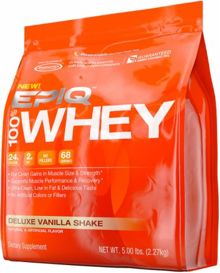 Clean Gains in Muscle Size & Strength
If you're an athlete looking to take your training to the next level, you know you can't trust your muscle growth and recovery to just any regular protein formula. You need the best, and that is EPIQ 100% Whey, a powerful formula you can trust.
EPIQ 100% Whey features 100% instantized, ultra-premium whey protein concentrate that's easy to mix and absorb. It's micro-filtered so that it's low in fat and strict on carbs to help you recover from your workouts without adding tons of unnecessary calories to your diet. So you'll build lean muscle, boost strength, and support muscle performance. And just like all EPIQ products, EPIQ 100 Whey has no fillers, no artificial colors, is free of banned substances, and has no undeclared ingredients. After all, whether you're an elite athlete, weekend warrior, or daily grinder in the gym, you want to be at the top of your game, and consuming a daily, ultra-clean protein powder is vital to taking your performance to the next level.*
Why is 100% Whey so Important?
EPIQ 100% Whey features a primary source of protein with an ultra-high biological value that makes it easy to absorb. It's also micro-filtered to reduce the things you don't want, such as fat, carbohydrates, and lactose, and to retain higher concentrations of the things your body needs, such as amino acids. And since EPIQ 100% Whey is packed with naturally occurring and added BCAAs and glutamine, it helps to promote lean muscle growth and recovery.*
Get Clean — Get Powerful!
Each serving of 100% Whey contains a massive 24g of protein to drive muscle strength and growth. What's more, the formula contains BCAAs and glutamine for recovery.* And like all EPIQ Guaranteed Supplements, 100% Whey is:
Free of banned substances (WADA)
Free of artificial colors or dyes
Free of harmful impurities
Free of undeclared ingredients
Developed with scientifically researched key ingredients
Manufactured according to current Good Manufacturing Practices (cGMP) standards, as is required for all dietary supplements
Made in the U.S.A. from international and domestic ingredients