Warning: This product is not currently available at any store.
Click the button above and PricePlow will email you when the first store has it in stock!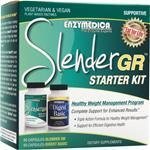 Enzymedica Slender GR Starter Kit
Slender GR Starter KitDescriptionfromENZYMEDICA
Enzymedica recognized the difficulties of maintaining strict regimens associated with typical weight loss programs. For that reason, Slender GR was developed as part of a healthy yet forgiving eating lifestyle. Slender GR provides support for the dieter and "non-dieter!"

With carb-friendly ingredients, Slender GR supports healthy metabolism of starches for maintaining normal blood sugar levels and encouraging weight loss. The proprietary enzyme blend, Glucoreductase, converts starches to form soluble fiber which may lessen the amount of glucose released from food. Gluten-free Rice Bran helps establish a feeling of "satiety," therefore promoting reduced meal portions. The lipase and superoxide dismutase (SOD) in Slender GR have been shown to enhance fat metabolism and support healthy detoxification.

Efficient digestion is beneficial to successful weight loss. Get enhanced results by including digestive enzymes into your weight loss program. Digest Basic supports healthy digestion for all major food groups throughout the entire digestive system.
Slender GR
Supplement Facts
Service Size: 1 capsule
Servings Per Container: 90
Ingredient
Amount
% Daily Value**
Rice Bran
500mg
Glucoreductase
57000un
SOD
20IU
Lipase
3000FCC
** Percent Daily Value is based on a 2000 calorie diet. Your daily values may be higher or lower depending on your calorie needs.
† Daily Value not established.


Digest Basic
Supplement Facts
Service Size: 1  capsule
Servings Per Container: 60
Ingredient
Amount
% Daily Value**
Protease
20000HUT
Amylase
8440DU
Pectinase (w/ Phytase)
25 PGU
Maltase
100DP
Cellulase
500CU
Glucoamylase
10AGU
Alpha Galactosidase
50GaIU
Lactase
300ALU
Lipase
450FCC
Invertase
270SU
Xylanase
100XU
** Percent Daily Value is based on a 2000 calorie diet. Your daily values may be higher or lower depending on your calorie needs.
† Daily Value not established.


Ingredients:
Other ingredients: 100% Vegetarian Capsule (cellulose, water)

Manufacturer's Directions
Take 1-2 Slender GR capsule 15 minutes before each meal. 2 capsules may be taken with larger meals or meals containing starch (pasta, bread or similar). 1-2 capsules may also be taken with a high calorie food or beverage. Take 1 Digest Basic capsule with each meal for enhanced digestion.

Manufacturer's Disclaimer
Consult your physician prior to use if you are pregnant or nursing.




Be The First To Review This Product







Similar Products

ENZYMEDICA Slender GR   90 caps

MAP (what's this): $35.99

MAP stands for "Minimum Advertised Price". The manufacturer of this product does not allow us to publish our selling price because it is less than the price they wish to see their product advertised at. To see our sale price, simply click on the link that says "See price in cart".close

Our Price:

See price in cart

ENZYMEDICA Reduce - Blood Sugar Balance and Support   90 caps

MAP (what's this): $42.74

MAP stands for "Minimum Advertised Price". The manufacturer of this product does not allow us to publish our selling price because it is less than the price they wish to see their product advertised at. To see our sale price, simply click on the link that says "See price in cart".close

Our Price:

See price in cart

SOURCE NATURALS S.O.D. Superoxide Dismutase   180 tabs

Our Price US$9.99