Quick Links to Best Prices Price History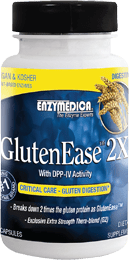 Dietary Supplement
Digestive#1 Selling Enzyme Brand
With DDP-IV Activity
Vegan & Kosher Plant-Based Enzymes
Breaks Down 2 Times the Gluten Protein as GlutenEase
Exclusive Extra Strength Thera-blend(G2)
Enzymedica: The Enzyme Experts
Absolutely No Fillers AddedFree up your food choice! GlutenEase offers those who suffer with gluten intolerance additional assistance in digestion and assimilation of the offending proteins, freeing up food choices while reducing concern surrounding cross contamination of dietary options.* GlutenEase 2X may also be used by those who wish to remain on the gluten-free diet to ensure complete breakdown of these proteins safely and effectively.*
Our exclusive high potency proteolytic Thera-blend (G2) is blended for its ability to break down more bonds of the offending protein in a wide range of pH,(in comparison to original Thera-blend).* These proteases target the gliadin peptides (gluten protein) in concert with a specific enzyme called DPP-IV.*
Vitamin Angels Proud Supporter
Autism Hope Alliance
BeGreen Verified
Contains No: Dairy, egg, preservatives, salt, sucrose, soy, wheat, nuts, corn, gluten, casein, potato, rice, artificial colors or flavors.
Made in USA
*These statements have not been evaluated by the Food and Drug Administration. This product is not intended to diagnose, treat, cure or prevent any disease.
Warnings
This product is not intended for individuals with celiac. As with all products, please keep out of the reach of children.
©Enzymedica