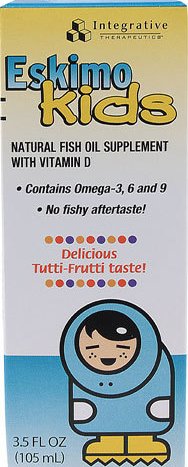 Enzymatic Therapy Eskimo Kids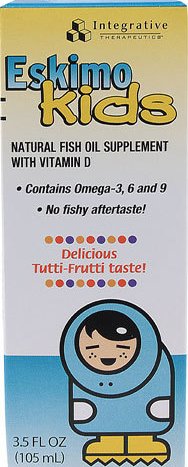 Enzymatic Therapy Eskimo Kids
Enzymatic Therapy Eskimo Kids Tutti Frutti Description
Natural Fish Oil Supplement with Vitamin D
Contains Omega-3, 6 and 9
No Fishy Aftertaste!
Delicious Tutti-Frutti Taste!
Special Features of Eskimo Kids
Delicious Tutti-Frutti taste, free from unpleasant fishy aftertaste found with other fish oils and EPA/DHA products.
Exclusive manufacturing process preserves beneficial whole-oil ingredients and Omega-3 concentrations.
Over 10 times more stable than other leading fish oil products.
Studies show Eskimo Kids is free from harmful levels of common environmental contaminants such as PCBs and DDT.
Naturally Pure and Stable
Eskimo Kids contains a unique, stable fish oil supplement that has not been chemically modified or processed like other fish oil products and EPA/DHA supplements.
Eskimo Kids contains natural oils.
It is manufactured under strict quality control with guaranteed potency, purity and quality.
Natural antioxidants in Eskimo Kids provide exceptional stability.
Research on Eskimo Kids
Research indicates that the fish oil ingredient in Eskimo Kids helps to provide nutritional support for normal cardiovascular function.
To support the major neurological, hormonal and growth changes that are associated with both childhood and adolescent years, it is important to maintain adequate levels of EFAs through the diet. Eskimo Kids supports neurological, immune, and hormonal development during childhood and teen years.
In a clinical trial, children receiving Eskimo Kids experienced significant improvement in memory, focus, and attention. Benefits for skin and the immune system were also reported.
Essential fatty acids may also support healthy weight management in children and teens when taken in conjunction with a healthy diet and regular exercise.
Directions
Children 1-12 years old: take 1 teaspoon (5mL) daily with a meal or as recommended by your healthcare practitioner. No refrigeration required. Protect from light and high temperatures. May refrigerate if preferred.
Disclaimer These statements have not been evaluated by the FDA. These products are not intended to diagnose, treat, cure, or prevent any disease.