Warning: This product is not currently available at any store.
Click the button above and PricePlow will email you when the first store has it in stock!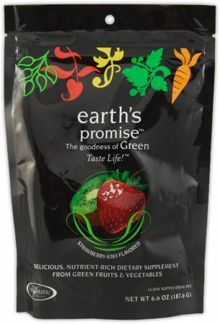 Enzymatic Therapy Earth's Promise
Today's busy lifestyles make it difficult to achieve a balanced diet. In fact, about 75% of Americans aren't eating the minimum recommended daily amounts of fruits and vegetables. Instead, food consumption surveys have highlighted the increased percentage of processed and refined "convenience foods" in the standard diet. Processed foods are lacking in active enzymes and vital nutrients such as magnesium. Many experts feel that diets consisting primarily of energy dense, nutrient poor foods may lead to nutrient deficiencies.1-7
Earth's Promise Provides:
Grasses, vegetables, and fiber for overall nutritional support*
Natural source of potent and clinically studied antioxidants-lycopene, beta-carotene, lutein and zeaxanthin*
Gluten and cholesterol free
Natural health support*
Rich in fiber and ideal for individuals on a low-carb diet
Convenient, great tasting drink mix
The health benefits of vegetarian, raw, or living food diets has been the subject of increased scientific inquiry. Research has confirmed that diets high in natural foods are associated with benefits for immune, gastrointestinal and cardiovascular health.* Earth's promise provides vegetables and grasses, rich in vitamins, minerals, and antioxidants, in a convenient and great tasting drink mix.
Earth's Promise has:
More beta-carotene than a serving of raw broccoli.
More fiber than a bowl of oatmeal.
More iron than a serving of spinach.
More calcium than a glass of freshly squeezed orange juice.
More lutein than 2 servings of blueberries.
Frequently Asked Questions
Why should I use earth's promise?
Earth's Promise delivers more fiber, more vegetables and more flavor than many other green drinks. Earth's Promise is gluten and cholesterol free, and provides a natural source of antioxidants and immune system-supporting green tea.*
Will Earth's Promise provide me with my RDA of vitamins and minerals?
The ingredients in Earth's Promise will contribute to your overall RDA of vitamins and minerals, but they are meant to be part of an overall healthy diet or supplementation regimen. By taking earth's promise, you are adding to your daily support against cellular oxidation.* Greens and vegetables found in earth's promise provide additional antioxidants that reduce free radicals.* In fact, it is these very antioxidants from sources that are receiving the most attention from research. The most well known group of plant antioxidants are the carotenes, the compounds that give plants their color. The carotene family includes beta-carotene, lycopene, lutein and zeaxanthin.
What's the best time of day to take earth's promise?
Because of the energy-boosting ingredients in earth's promise, it's probably best to take in the morning or by early afternoon.*
Can I take Earth's Promise with my other supplements?
Yes, in fact, earth's promise makes a perfect compliment to any supplementation program.
Can I take Earth's Promise with my prescription drugs?
Always check with your licensed healthcare practitioner before use.
Does this count as part of my recommended daily 5 fruits and vegetables?
The ingredients in Earth's Promise certainly contribute to the recommended daily 5 intake. However, it is best considered part of an overall supplementation program to ensure you are getting the optimal levels of nutrients.
What benefit are the grasses anyway? Why not use grains?
The grasses in Earth's Promise are grown outdoors, converting sunlight into beta-carotene, lysine, arginine, glutamine, asparagine, and other healthy components. The grasses are harvested just before the jointing stage, when the nutrients are at their peak. Any later than that, and the nutrients are used up for the jointing of the plant. If you've ever seen a tall stem of grass in your lawn, that first bamboo-like "joint" is exactly the same thing. After jointing, the nutrients are converted to create more of the structure of the grass-the cellulose fiber that gives grasses their shape. The seeds of grains are, of course, used to make flour. Whole-grain breads are very healthy, but some individuals have allergies to gluten, which is inherent in the wheat berry. To keep Earth's Pomise gluten free, and take advantage of the many nutrients found in grasses, they are harvested before forming grain heads or "berries." Plus, wheat grass has twice the fiber of bran, which helps promote colon health, regulate blood sugar metabolism already within normal limits and support healthy cholesterol levels already within normal limits.*
So, Earth's Promise contains no gluten?
That's right. The leaves of wheat grass are closer to the nutrient profile of other leafy green vegetables like kale, spinach and mustard greens than they are to a grain product. There is no gluten in earth's promise because there is no grain or "berries" from the wheat plant.
Are the flavors all-natural?
Yes, all three varieties of Earth's Promise are naturally flavored. The Strawberry-Kiwi, Elderberry and Peppermint-Tea are all naturally-sourced flavors.