Warning: This product is not currently available at any store.
Click the button above and PricePlow will email you when the first store has it in stock!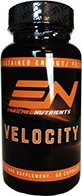 Enriched Nutrients Velocity
All Day Energy & In-The-Gym Intensity!
• Increase Energy
• Extend Workout Endurance
• Promote Fat Loss
Crossfit has gained quite a bit of popularity in recent years as a great way to work out and get in shape. In fact, those individuals that participate in crossfit achieve a high level of fitness and as a result have gained a very positive attitude about life. Following crossfit and a sound nutritional program can produce great results; however, adding in a supplement designed specifically for crossfit can further enhance those results.
Enriched Nutrients Velocity was created to dramatically enhance training endurance, promote alertness and energy as well as stimulate fat loss. Velocity is not limited to only crossfit users, as bodybuilders, powerlifters and strength athletes will experience impressive results with Velocity.
Here's a breakdown of the Velocity formula, which consists of just 3 proven ingredients:
Amp Citrate - This compound acts as both an energy enhancer and a fat burner, it stimulates your central nervous system which increases energy, focus, alertness and increases the metabolism which in turn stimulates fat loss. When DMAA was recently banned, Amp Citrate surfaced as a safe alternative that could effectively replace it.
Caffeine – When you combine amp citrate with caffeine, it dramatically enhances fat burning potential. Of course, caffeine is world-renowned as an energy and alertness aid and recent research has uncovered its benefits as both a thermogenic and a performance enhancer.
Methyl-Synephrine – When Ephera was banned, effectively killing the legendary ECA fat loss stack that produced near miraculous results for many, Methyl-synephrine was one of the first ingredients used as a replacement. It's extracted from the Bitter Orange fruit (also called Citrus Aurantium) and it's currently sold legally in the US as an herbal extract, becoming very popular in fat loss products and pre-workouts as well as other energy formulas. Structurally similar to synephrine, also well known as a fat burner and energy enhancer, the question comes up as to what the differences are. The primary difference is that the methyl group increases methyl-synephrine's effect on the beta-receptors that promote fat loss. It also promotes fat breakdown, enabling fat to be used as fuel for the body and it speeds heart rate, which allows nutrient-rich blood and oxygen to circulate more efficiently.
Crossfit is a great program that combines strength and cardio workouts designed to give you results so you feel good and look great. For those engaged in crossfit and also those engaged in bodybuilding or the strength sports, Enriched Nutrients Velocity will enhance your results and help you achieve your goals faster.
Velocity – Achieve Your Goals and Live Life.

Supplement Facts
Serving Size: 1 Capsule
Servings Per Container: 60

Amount Per Serving

Amp Citrate - 150 mg
Caffeine - 250 mg
Synephrine - 50 mg

Directions


Warnings