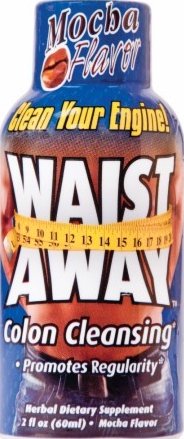 Empire Botanical Labs Waist Away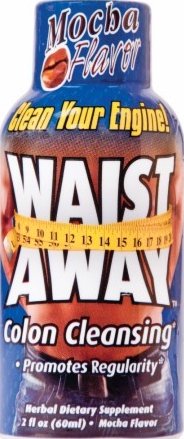 Empire Botanical Labs Waist Away
Visible Results Overnight!
So everyone's checking out your stomach, but it's NOT your 6-pack abs they're looking at! It's that food that you ate yesterday, the day before, or 3-5 days ago that's still sitting in your intestines making you look fat and bloated!!! You know your routine better than anyone. You're eating right, going to the gym, getting 7 hours of sleep each night... all so that you can look and feel your best, right? But sometimes, you need that little extra push to get you regular and help you look great, help you zip up those jeans, make weight for the competition or to meet that goal you set for yourself. Waist Away is a "quick fix" that helps you cleanse your body and gently and effectively move that waste that may be sitting in your colon due to mild irregularity.*
Taking Waist Away is Simple!
Drink one bottle, preferably at bedtime. (For stronger results you can take up to two bottles.)
While you sleep, Waist Away works to help gently flush out the waste matter that's stored in your colon and intestines.*
When you wake up, you'll be able to go to the bathroom easier and hopefully rid your body of all that waste that was stored in your lower-abdomen causing that "belly-bulge"!*
Waist Away is a 2oz. liquid dietary supplement unlike anything in the market today. Waist Away is an all-natural, herbal drink that contains 25 grams of fiber, including a prebiotic digestive fiber called Inulin, plus a natural herb called Senna. All this comes together to help:
reduce bloating*
promote regularity*
cleanse the colon*
Why Are You Bloated?
By Dr. Mitchell Fleisher
I hear it from bodybuilders and health enthusiast all the time... "I'm dieting right, but I still feel bloated." You need high protein to build muscle, and you can benefit from low carb to slim down, but often what you're missing the most is fiber. The end result is that it could prevent your stomach from being its flattest and best looking.
The One-Day Cleanse "shot" called Waist Away, gives you four different types of fiber, including a prebiotic digestive fiber called Inulin FOS (Fructooligosaccharides), providing nearly 100% of the RDA of fiber, combined with a natural herb called Senna that acts as a gentle laxative. Waist Away is the only product I have seen in a 2 oz. shot that supports visible results - OVERNIGHT!*
Low Carbs + High Protein = BLOATING
With today's busy lifestyles, squeezing in an hour at the gym can sometimes be difficult. Not getting enough fiber can lead to your bowels being backed up for days, making you feeling tired, sluggish and you guessed it - BLOATED!
Sufficient fiber not only helps to maintain the health of our digestive tract and our colon, but it also provides other benefits*:
Helps remove toxins from the body*
Helps maintain blood cholesterol levels that are already in the normal range*
Helps promote regularity*
Helps maintain normal blood sugar levels already in the normal range*
Visible Results - As Easy As 1-2-3
Taking Waist Away is EASY! You simply take a bottle, preferably at bedtime. While you sleep, the all-natural ingredients in Waist Away help to promote the digestion of all the waste and toxins that are built up in your system due to irregularity. When you wake up the next day, Waist Away helps to gently promote bowel function, helping you to feel lighter and look better - It's really that simple!*
References
Chevallier A. Encyclopedia of Medicinal Plants. New York, NY: DK Publishing; 1996:72.
Robbers JE, Tyler VE, eds. Tyler's Herbs of Choice. Binghamton, NY: The Haworth Herbal Press; 1999:60-61.
Newall CA, Anderson LA, Phillipson JD. Herbal Medicines: A Guide for Health-Care Professionals. London, England: The Pharmaceutical Press; 1996:243-244.