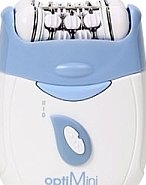 Emjoi optiMini Dual Opposed Tweezer System, Model AP-96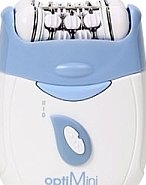 Emjoi optiMini Dual Opposed Tweezer System, Model AP-96
Technology That Gets Personal
New - Innovative Design Solves The Problem of Single Hair Tweezing.
Dual Opposed Hair Remover To Leave Skin Smooth For Weeks
Patented Hair Guides Channel Flat And Short Hair Into The Hair Removal Discs
Ergonomically Designed To Fit Comfortably In Your Hand And Around All Your Curves.
Electrically-operated
30 tweezers mounted on dual opposed heads removes hair quickly and effectively.
Removes hair from the root for long lasting results up to 4-6 weeks
Re growth of hair is slower and finer
Contoured design holds the skin taut and pulling and discomfort is minimized.
Patented hair guides channel flat and short hair into the hair removal discs
Compact design fits perfectly in your hand
Can be used on face (use one side of the epilation attachment), to remove hair from the upper lip and chin.
Remove hair all over the body - legs, bikini line and underarms
Portable so it is great for travel
Easy to Clean
Contains:
Emjoi optiMini electrically -operated hair removal system
Adapter
Travel Pouch
Cleaning brush
Instruction booklet
Please Note: This item has been built to U.S. electronics specifications and may need additional modifications or converters to be used in countries other than the U.S. and Canada.
* These statements have not been evaluated by the Food and Drug Administration. This product is not intended to diagnose, treat, cure, or prevent any disease.