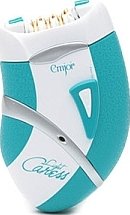 Emjoi Light Caress Hair Remover, Corded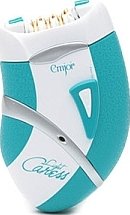 Emjoi Light Caress Hair Remover, Corded
A totally luxurious Hair Remover to remove hair from the root for up to 6 weeks of silky smooth skin.
36 gold plated tweezers leave skin smooth for weeks. Hair Free. Features spotlight.
Contains:
Emjoi Light Caress electrically operated hair remover
Massaging finger attachment
Instruction booklet
Adapter
Travel pouch
Cleaning brush
Loofa
Emjoi Light Caress:
luxurious hair remover with 36 patented tweezer discs removes hair from the root
24 karat gold plated tweezers remove hair quickly and comfortably 
Enjoy smooth skin for up to 6 weeks
patented Pain Reduction Technology greatly reduces discomfort
Removes hair as short as 0.5mm
Contoured design hugs your curves
Soft touch grip fits comfortably in your hand
Light illuminates hard to see hair
Gentle enough to remove individual hair on the upper lip and chin
Excellent for removing hair on the legs, bikini line and underarms
Includes Massaging Finger Attachment
Corded
Dual speed control
Compact and great for travel
Hypoallergenic
Emjoi Technology That Gets Personal.
* These statements have not been evaluated by the Food and Drug Administration. This product is not intended to diagnose, treat, cure, or prevent any disease.