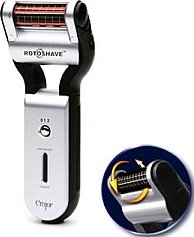 Emjoi AP-3RS Men's Rotoshave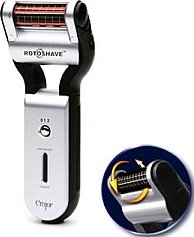 Emjoi AP-3RS Men's Rotoshave
The World's First Ever Electric Razor!  Revolutionary New Razor Unlike Anything Before!
The
Emjoi RotoShave
is a ground breaking rechargeable razor that combines the ease of use and convenience of an electric shaver with the closeness and efficiency of a razor blade.  9 rotating blades at about 30 revolutions per second (an amazing 270 times per second) touch the skin leaving you with a closer faster, and smoother shave. 
The
Emjoi RotoShave
is equipped with patented safety guards and patented spiral windings.  The combination of these safety features help to minimize irritation and virtually eliminates nicks and cuts leaving the skin smoother than other electric or manual shaving methods.
RotoShave is a shaving appliance the hand-held part of which may be used in a bath or a shower.  The Emjoi Rotoshave combines the ease of use and convenience of an electric shaver with the closeness and efficiency of a razor blade.
Touched by 9 rotating blades at a high speed of 30 revolutions per second delivers an amazing 270 razor strokes per second.
Incorporating Emjoi's Multi-Angle Blade Technology
Rotoshave gives you the closest, the safest, the smoothest and the fastest shave than any other razor. There is no other razor that can compare!
Patented Safety Guards act as a barrier between the blades and your skin, gliding over skin imperfections with less nicks, cuts, irritation and scratches than other razors.
Features:
Rotoshave features patented Spiral Windings to virtually eliminate irritation.
Electric wet shave in or out of the shower
Dual speed for light or heavy growth
Rechargeable
Low battery indicator
Fully charges in 1 hour
Automatic switching charger (100-240 volts) for worldwide use
Includes:
RotoShave
Carrying Case
Adapter
Charging Base
9-Blade Roller Replacement.
Please Note: This item has been built to U.S. electronics specifications and may need additional modifications or converters to be used in countries other than the U.S. and Canada.
Please keep these instructions for future reference.
The Emjoi RotoShave is a Men's shaver for shaving beards and not for the arm and leg.  The Emjoi RotoShave is not for women.
Please read all warnings in the instructions.
* These statements have not been evaluated by the Food and Drug Administration. This product is not intended to diagnose, treat, cure, or prevent any disease.