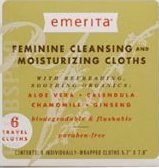 Emerita Feminine Cleansing and Moisturizing Cloths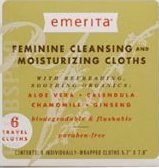 Emerita Feminine Cleansing and Moisturizing Cloths
Emerita Feminine Cleansing and Moisturizing Cloths Description
Feel Fresh and Confident in Your Own Skin.
With Refreshing, Soothing Organics:
Aloe Vera • Calendula
Chamomile • Ginseng
Biodegradable & Flushable
Gently and Naturally Cleans, Deodorizes, Moisturizes
Paraben Free
6 Travel Cloths
Fresh. Clean. Healthy. Confident.
That's how you can feel every day. Experience a feminine moisturizer that's scientifically formulated to promote overall vaginal  health. From Emerita, the leader in natural personal care and wellness products for women.
What's in it: Refreshing organics, i including aloe vera, calendula, chamomile and ginseng.
Directions


Suggested Use: Gently cleanse from front to back. Discard after use. May be used daily.
Free Of Parabens, mineral oil, petroleum, animal ingredients and animal testing. Disclaimer These statements have not been evaluated by the FDA. These products are not intended to diagnose, treat, cure, or prevent any disease.
Ingredient Facts