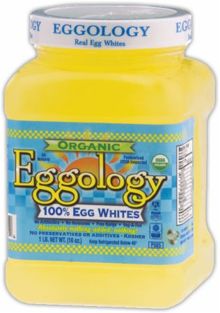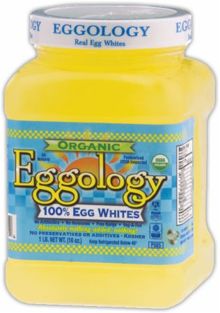 IMPORTANT SHIPPING INFORMATION
Delivery in the Continental U.S. only. This item is shipped separately by the manufacturer and may take up to 5 business days for delivery.Trust us - it's worth the wait!
Note: After your order is placed you will be contacted to confirm date of delivery (this is a perishable product). Fresh, cold egg whites will arrive via FedEx in a specially designed temperature controlled case. In most cases, orders received Monday thru Wednesday morning will arrive the same week (Thursday & Friday respectively). The case will keep Eggology cold for 24-48 hours after delivery.
Eggology 100% pure fresh organic egg whites come to you straight from the shell. You will notice that Eggology egg whites taste sweet - that´s only because they are so fresh (only 3 days from the ranch).
Not Frozen
No Additives
No Coloring
No Preservatives
Eggology pure liquid egg whites taste and cook exactly like you just cracked your own eggs, because (that´s exactly what they are!) And, because they´ve not been frozen or processed, they do not lose taste or become watery. We have taken additional steps in heat pasteurizing & salmonella testing our product so it can be safely consumed in a protein drink, whipped for meringue, or eaten raw. Whether you cook them in an omelet or a casserole, you will notice the great taste and convenience immediately.
100% Pure (Absolutely nothing added...Nothing!! No Preservatives, No Additives)
Fresh - 3 days from the ranch (Not frozen, older eggs, or powdered)
Original or Certified Organic
Kosher
Pasteurized
Salmonella & Listeria Tested (making it safe to whip meringue, blend in drinks & smoothies, and even eat raw)
No Fat - No Cholesterol - No GMO´s - No Trans Fats
3-4 Month refrigerated shelf life
USDA Approved - HACCP Approved
Gourmet chefs, upscale hotels (including New York´s Plaza Hotel), white tablecloth restaurants, caterers, bakers, pro athletes, and millions of individuals living a healthy & active lifestyle have chosen Eggology brand for its freshness, purity, and safety.
Eggology egg whites are so fresh & pure that they are recommended by ABC´s Good Morning America, Fine Cooking Magazine, Cook´s Illustrated, Better Homes & Gardens, The New York Times, The Washington Post, The Gourmet Retailer, Food & Beverage, hundreds of finer cooking, and fitness & nutrition publications.
Dr. Barry Sears of the hottest diet "The Zone" recommends Eggology brand egg whites. Egg whites are nature´s best source of protein on the planet Earth, and until now people had to either crack & separate their own eggs, or buy egg white products that contain added chemicals and artificial ingredients.
Because Eggology egg whites are so fresh, they can be refrigerated for 4 months, and because egg whites have no bacteria they can be frozen for years. In fact, 100% pure egg whites are so versatile that they can be defrosted numerous times without altering taste or texture. There are no added preservatives!
Use Eggology egg whites in any form of consumption, including smoothies, omelets, whipping, baking, and even hard boiling. Eggology is real egg whites- not a concoction!
No more bad taste as with protein powders, and concocted egg products.
No more chemicals, colorings, gums, and preservatives.
No more cracking eggs.
No more wasting yolks.
No more worrying about salmonella.
Ready to eat, drink, cook and enjoy.