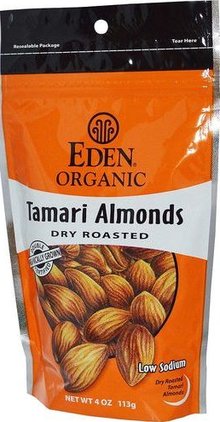 Eden Foods Tamari Almonds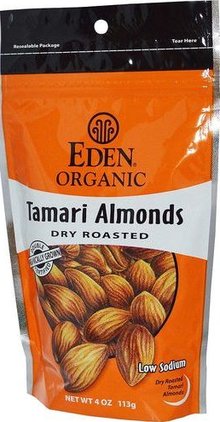 Eden Foods Tamari Almonds
Eden Foods Tamari Almonds Pocket Snacks Description
Nuts, Seeds & Berries
The Best Family Farm Grown
The Finest Ingredients From Growers We Know & Trust
Pure & Purifying
Eden Pocket Snacks
Sulfite & Gluten Free
12 - 1 oz Packages
Nuts, Seeds & Berries
Handy delicious snacks. Low sodium, No sulfites, refined sugar, or trans fats.
Gluten Free
Dairy & Soy Free
Just for fun or Lunch
Bike - Hike
Travel
Pocket Snacks
Eden snacks go easily to school, work & on errands.
Keep some in the pantry.
Pure and Delicious Energy.
The finest ingredients.
Low or very low sodium.
No refined sugars, trans fat, sulfites or preservatives.
California organic whole almonds, gas fire roasted and misted with organic Eden tamari soy sauce. They taste great. A zero guilt snack food that nourishes very well.
Free Of Sulfites, gluten, dairy, soy and preservatives. Disclaimer These statements have not been evaluated by the FDA. These products are not intended to diagnose, treat, cure, or prevent any disease.
Nutrition Facts