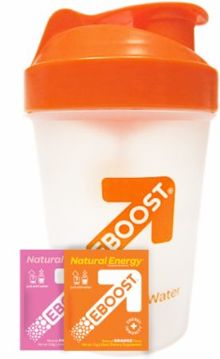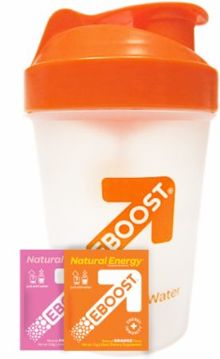 The EBOOST SmartShake Lite is made from high quality industrial BPA- & DEHP-free plastic. It is safe to use in micro, freezer and dishwasher. Thanks to the advanced anti-leak technology the lid and the cap is 100% guaranteed leak proof even for hot and ice-cold drinks.
The innovative concave beater mixes powder with liquid to perfect viscosity in just a few shakes. The mixer snaps on to the lid (patent pending), no need to get your hands messy every time you want to lift the mixer.
Why the EBOOST SmartShake Lite is even smarter? Well, we included 2 free samples of our EBOOST Effervescent Powders (Natural Orange and Pink Lemonade Flavor), and a 20% off coupon to redeem on your next EBOOST purchase. Who said you can't have your cake, and eat it too?
EBOOST's premium formula of vitamins, minerals and super-nutrients delivers energy to boost your workout and your life. No sugar, no artificial colors or flavors, and only 10 calories, EBOOST provides: Energy, Hydration, Mood, Focus, and Immune Support.*
Details:
Custom EBOOST design
Anti-Leak Technology
Non-Toxic, BPA & DEHP free
100‰ recyclable
Microwave, freezer, & dishwasher safe
Snap on strainer/mixer
The cup holds 20 oz (600 ml) up to the edge
Patent pending
Designed in Sweden
Box includes:
1 EBOOST SmartShake Lite 20oz
2 free EBOOST Effervescent Powders (Natural Orange and Pink Lemonade Flavor)
20% off coupon to redeem on your next EBOOST purchase at