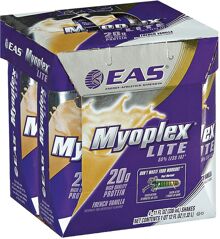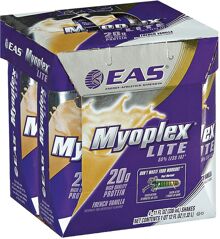 EAS Myoplex
Lite Shakes
Has 170 Calories and revigor hmb to help maintain lean muscle*
20
g
protein
1.5
g
HMB
24
vitamins & minerals
Build Muscle
How it works
Taken within 30 minutes after your workout as a snack, or as part of a smaller-meal plan consisting of 5 to 6 smaller meals per day, this great-tasting shake has 55% less fat than Myoplex Original, 20g of protein, and 170 calories.
20g PROTEIN: Features a blend of rapid and slowly digested proteins, designed to promote sustained muscle protein synthesis.*
1.5g REVIGOR HMB: Produced naturally in the body from the amino acid, leucine, helps recovery in 3 ways: protects muscle tissue, preserves muscle cells, and promotes muscle growth.*†
24 VITAMINS & MINERALS: To support daily nutrition, including 8 B vitamins for energy and protein metabolism, antioxidant vitamins C and E, and selenium for immune support*
HOW REVIGOR HMB WORKS
REVIGOR HMB aids muscles post-workout in 3 ways:
PROTECTS MUSCLE TISSUE
by reducing the breakdown of protein †
HELPS PRESERVE MUSCLE CELLS*
by strengthening muscle cell membranes †
PROMOTES MUSCLE GROWTH*
by increasing protein synthesis †
It is most important for REVIGOR HMB to be available to muscles immediately post-workout. So, 2 servings throughout the day (1.5g per serving), with one of them coming right after a workout, is recommended (Wilson et al 2008).
THE RECOVERY WINDOW*
Optimal recovery is all about timing. After your workout, there is a 30-45 minute window of opportunity during which your body is most receptive to repair, recovery, and energy restoration.
UP TO
30
MINUTES
45
MINUTES
90 MINUTES
TOO LATEFOR OPTIMALRECOVERY120 MINUTES
O
P
T
I
M
A
L

R
E
C
O
V
E
R
Y
ELAPSED TIME POST - WORKOUT
PUTTING HMB TO THE TEST
In a randomized, blind experiment, 41 healthy adults, ages 19-29, were given a protein supplement with and without HMB. They then weight trained 1.5 hours a day, 3 days a week for 3 weeks. At the conclusion of the experiment, the HMB group's overall muscle strength increased by 18%, more than doubling the 8% the control group increased (*Nissen et al 1996).
IS ALL HMB THE SAME?
NO. It is important to look for the real HMB to know you are getting the form of HMB that is actually suggested to produce beneficial results in clinical studies. The REVIGOR HMB found in EAS products uses the specific form of HMB (calcium beta-hydroxy-beta-methylbutyrate) from Metabolic Technologies, Inc., that has been most thoroughly investigated in clinical studies (Abumrad et al 2011).
Change in total body strength (%) over a 3-week trial
Control group
8%
HMB (3g/day) group
18%
The science inside
PROTEIN
There is a constant flux inside the body between making new muscle protein and breaking down old muscle protein. In order to increase muscle size, muscle protein synthesis needs to exceed breakdown. To achieve this, the American College of Sports Medicine (ACSM) and the Academy of Nutrition and Dietetics (AND) recommends the following intakes specific to the type of training being performed:
VITAMINS & MINERALS
Vitamins are essential micronutrients, which are also part of a healthy diet and can have a large effect on health and wellbeing. Although only needed in small amounts, vitamins are important contributors to the body's daily functions and are essential to its growth and repair. They are considered essential because the body cannot produce the quantities required.
Strength Training
To support muscle growth, particularly during early training phase when gains are greatest and protein utilization is less efficient
To account for greater use of protein as fuel for energy
.5-.6g/lb
.5-.8g/lb
Endurance Training
EAS Recovery Protein
A more complete recovery solution than 100% whey alone†
EAS Phos HP
Increased energy and focus to power your workouts*
EAS Myoplex 30 Bars
Quick and convenient, on-the-go nutrition
EAS Muscle Armor
Protects and preserves muscle cells*
100% Certification
No banned Substances
No proprietary blends
EAS is the first major sports nutrition brand to have its line of products certified as 100% free of banned substances. Learn more at eas.com/certified
BANNED SUBSTANCE TESTED
TESTED & TRUE
CERTIFIED
eas.com/certified
Other EAS Products to help build muscle