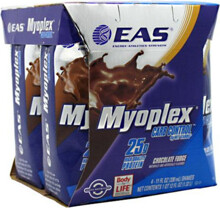 EAS Myoplex Carb Control RTD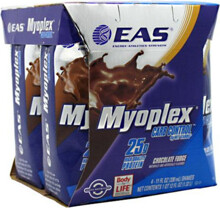 EAS Myoplex Carb Control RTD
42 g High quality protein - RICH DARK CHOCOLATE - SHAKES. EAS, energy, athletics, strength, is a pioneer in sports nutrition products for athletes and fitness enthusiasts. Recognizing theses advances in sport nutrition, today thousands of professional athletes and fitness enthusiasts in over 50 countries choose EAS to help satisfy their nutritional needs.
Taken within 30 minutes after your workout, the 42 g of high quality protein in Myoplex Original helps you refuel and build lean muscle.
Research supports that eating six smaller meals a day can jump-start your metabolism and sustain higher energy levels. Supplementing up to two of these meals with Myoplex bars and shake is a convenient, great-tasting way to get protein and other nutrients to help your body perform at its best.