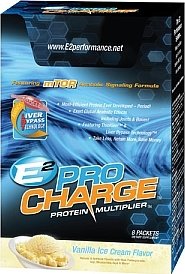 E2 PRO CHARGE Protein Multiplier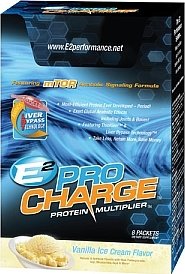 E2 PRO CHARGE Protein Multiplier
Featuring mTOR Anabolic Signaling Formula

Most-Efficient Protein Ever Developed - Period!
Expert Global Anabolic Effects
Including Joints & Bones!
Featuring TiolGen™ &
Liver Bypass Technology™
Take Less, Retain More, SaveMoney

Did you know, when on calorie restricted, low-carb diets nearly 50% of the protein you
consume is hijacked by the liver and converted to high priced glucose to replenish liver
glycogen stores? It's NOT used for muscle tissue repair and growth! ONLY New E2 ProCharge
™ with Liver Bypass Technology is scientifically designed to largely bypass the liver, delivering
more muscle building aminos directly to the muscle for greater repair and faster growth.
* These statements have not been evaluated by the Food and Drug Administration. This product is not intended to diagnose, treat, cure, or prevent any disease.