Warning: This product is not currently available at any store.
Click the button above and PricePlow will email you when the first store has it in stock!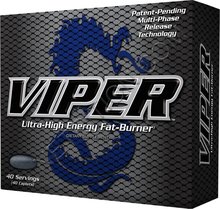 Viper by Dymatize
Why is VIPER so effective?
VIPER takes the science of fat burning to the next level! By combining a true rapid release pharmaceutical technology and enteric-coated extended- release matrix. VIPER provides a surge of energy followed by a controlled, steady release of energy virtually all day long.*
What does VIPER contain that makes it such an intense, hardcore fat-burner?
VIPER is a pharmaceutically developed "multi-phase" tablet designed to release both immediate energy and sustained energy for all day fat burning and increased energy levels. VIPER has two technologies at work: instant dispersion technology and pharmaceutically derived enteric-coated technology, both combine to give you the intensity and fat burning you desire!*
VIPER features "Dyma-CocoXan," created from the most potent and standardized cocoa blend, formulated to give VIPER its high-performing energy surge. This high-energy cocoa and xanthine matrix contains high levels of natural bioflavonoids and alkaloids, especially epicatechin, not to mention its prominent "onyx" color.*
Phase 1: Viper works in as little as 10 Minutes.
VIPER is designed to dissolve instantaneously, quicker than regular capsules or tablets, and even faster than liquid capsules. Traditional capsules can take 10 minutes to dissolve and up to 17 minutes, or longer, to impact the blood stream while VIPER is practically working from the second you take it! The exterior wall of VIPER is designed to dissolve rapidly, at an ultra fast dissolution rate to deliver the active components efficiently and almost immediately to the bloodstream. It's this rapid release that gives VIPER its name, striking fast and releasing the formula from the moment the pill is taken.*
Phase 2: Viper lasts hours!
VIPER has you feeling the intensity in just minutes, the next phase is where the "all day" energy is released. The enteric coating in VIPER is designed to prolong the "second strike" of energy until Phase 1 is well under way. Once delivered to the digestive tract, VIPER's "core" starts to break down and Phase 2 begins releasing more of VIPER's highly potent formula, giving you the highest energy fat burner!*
Nutrition Facts:
Vitamin B12 (Cyanocobalomin) 20.5 mcg 340%
Multi-Phase Proprietary Matrix 707 mg **
Dyma-CocoXan (Cocoa Extract containing natural Xanthine, Theobromine and added Synephrine), Guarana Extract (99% Xanthine Guaranine), Phenylalanine, B-in-B Matrix (Zingiber, Cayenne, Yohimbe HCL, Bioperine, Maximowizia Chinensis Extract, Phaseolus Vulgaris Extract, R-Alpha Lipoic Acid, 5-Hydroxy L-Tryptophan, Guggul Extract (Commiphora Mukul 2.5% Guggulsterones), Rhodiola Rosea Root Extract, Tyrosine Ethyl Ester, Propionyl-Carnitine Ethyl Ester, DymaMine3 (Thiamine Disulfide / Thiamine Trisulfide)
* Percent Daily Value (DV) ** Daily Value not established
✓Bioperine is a Trademark of Sabinsa Corp.
Other Ingredients:
Dicalcium phosphate, microcrystalline cellulose, Hydroxypropyl Methylcellulose, Polydextrose, FD&C Blue #1, FD&C Blue #2, Titanium Dioxide, Maltodextrin, Stearic Acid, Croscarmellose Sodium, Silicon Dioxide, Magnesium Stearate, Talc, Medium Chain Triglycerides, Sodium Carboxymethylcellulose, Dextrose, Sodium Alginate, Ethylcellulose, Oleic Acid, Ammonium Hydroxide, Lecithin (Soya). Contains Soy.
Directions:
DIRECTIONS: As an adult dietary supplement, take one (1) Rapid Release / Extended Release tablet before breakfast or morning exercise session, and one (1) more tablet at mid-afternoon. Do not exceed 2 Rapid Release / Extended Release tablets per day. For best results, use as part of a reduced fat diet and exercise program.*

WARNING: Keep out of the reach of children. Not intended for persons under 18 years of age. Do not exceed recommended serving. Do not use if pregnant or nursing. Consult a physician before using this product if you have any
preexisting medical conditions, including high blood pressure, heart or thyroid problems, nervous disorders, diabetes, or are taking any medication. Limit the use of caffeine containing medications, foods or beverages while taking this product because too much caffeine may cause nervousness, sleeplessness and occasionally rapid heartbeat.
* These statements have not been evaluated by the Food and Drug Administration. This product is not intended to diagnose, treat, cure, or prevent any disease.