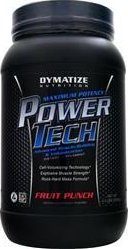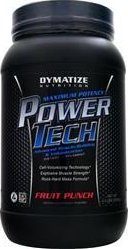 Power Tech Description from DYMATIZE NUTRITION
PowerTech by Dymatize is the ultimate advanced Creatine, Arginine, Glutamine, A-AKG and Free Form Amino Acid delivery system. PowerTech's highly concentrated formula helps to increase the storage of Creatine, Glutamine, L-Taurine, specific minerals and Glycogen which may be essential for maximum muscle recovery and cell voluminization after intense workouts. PowerTech's formula also boasts a powerful combination of nutrients that support insulin activity and maximize muscle cell expansion.
With advanced muscle building in mind from the start, this advanced formula contains not only a massive 10000mg of Creatine Power Complex per serving, but also 7250mg of an avanced strength and mass matrix. This matrix combines a potent amount of powerful arginine and A-AKG along with free-form amino acids like L-Taurine and the Branc Chain Amino Acids of L-Leucine, L-Isoleucine, and L-Valine. In addition, each serving of Power Tech contains a full 900mg of our advanced glucose optimization matrix designed to support optimal insulin action in muscle.
A potent 75 grams of optimal performance carbohydrated derived D-Glucose (Dextrose), Glucose Polymers (Maltodextrin), D-Fructose, and long chain, high molecular weight waxy maize starch are in each serving of PowerTech. This targeted amount of advanced sugars and starches are designed to help promote higher plasma glucose levels, and helps to optimize insulin levels. Thi insulin in turn helps to maximize the delivery for the potent 10 grams of creatine as wel as the other active indredients found in PowerTech, Combined, the advanced formula found in Dymatize PowerTech is designed to help give you the maximum muscle, mass and strength gains you are looking for.
Supplement Facts
Serving Size: 100 grams
Servings per Container: 20
Ingredient
Amount
% Daily Value**
Calories
300
Total Carbohydrates
75g
25
-Dietary Fiber
3g
12
-Sugars
42g
Vitamin C
200mg
330
Thiamin
2mg
130
Vitamin B2
2.1mg
120
Niacin
20mg
100
Vitamin B6
2.1
110
Vitamin B12
5mcg
80
Vitamin B5
9mg
90
Magnesium
61mg
15
Chromium
60mcg
50
Sodium
65mg
3
Potassium
80mg
2
Creatine Power Complex
-Micronized Creatine Monohydrate & Creatine Citrate
10g
Power Strength & Mass Matrix
7.55mg
-Cell Volumization Composition
--L-Arginine & Arginine AKG (3g)
--L-Glycine
--L-Methionine
-Amino Acid Recobery & Growth Matrix
--L-Taurine
--L-Glutamine
--L-Lysine
--L-Leucine
--L-Isoleucine
--L-Valine
--Alpha Ketoglutarate (AKG)
Glucose Optimization Matrix
1g
-L-Aspartic Acid
-L-Phenylalanine
-Inosine
-L-Arginine Pyroglutamate
-Inositol
-Medicago Sativa Leaf (Alfalfa)
** Percent Daily Value is based on a 2000 calorie diet. Your daily values may be higher or lower depending on your calorie needs.
† Daily Value not established.

Ingredients:
Other ingredients: D-Glucose (Dextrose), D-Fructose, Glucose Polymers (Maltodextrin), Waxy Maize Starch, Gum Arabic, Natural & Artificial Flavors, Citric Acid, Silicon Dioxide, Red #40, Xantham Gum.
Phenylketonurics: Contains Phenylalanine.
Manufacturer's Directions
As a dietary supplement, mix 2 scoops (100g) with 12 ounces of cold water. Maintain with 1 serving daily. For maximum results: Take PowerTech immediately after a workout or exercise. For best results use for at least 4 weeks.
Manufacturer's Disclaimer
While using a creatine supplement, be sure to consume ample amounts of fluid (ideally 120 oz a day). Do not use if you suffer from diabetes or if you are prone to hyperglycemia or hypoglycemia. If you experience a skin rash or any other allergic reaction, discontinue use and consult a physician. Keep out of the reach of children. Do not exceed 2 scoops daily.