Warning: This product is not currently available at any store.
Click the button above and PricePlow will email you with updates from Dymatize.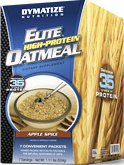 Dymatize Elite High-Protein Oatmeal
Elite Oats 'N More is exactly the kind of whole oats breakfast cereal you would expect from Dymatize Nutrition. This cereal is jam packed with nutrients, formulated with cutting edge trchnology, and absolutely delicious! In each one of the 7 convenient single serving pouches, you get hearty oatmeal and an added 34 grams of protein derived from our famous Elite protein. . Instead of filling up on simple carbs, get a real start with protein and the goodness of whole oats. These oats contain high levels of soluble fiber which plays an important role in promoting your bodies overall health. How often can you get a truly beneficial hot meal on a busy morning? Now you can every day! A single serving can be ready in less than 2 minutes. So, get a Dymatize start on the day and power up with Elite Oats 'N More for breakfast or anytime of the day!

Nutrition Facts
Serving Size 1 packet
Servings Per Container 7

Amount Per Serving

% Daily Value

Calories 260

Calories from Fat 21

Total Fat 3 g 4%

Saturated Fat 0 g 2%

Polyunsaturated Fat 1 g

Monounsaturated Fat 1 g

Cholesterol 0 mg 0%

Sodium 70 mg 3%

Potassium 140 mg 4%

Total Carbohydrate 25 g 8%

Dietary Fiber 5 g 18%

Soluble Fiber 2 g

Sugars 5 g

Protein 35 g

Vitamin A 37 IU 2%

Vitamin C 2 mg 4%

Calcium 40 mg 4%

Iron 2 mg 10%

Sugar Free

Vitamin E 1 IU 2%

Chloride 40 mg 2%

Copper 0 mg 6%

Folate 10 mcg 4%

Niacin 400 mcg 2%

Pantothenic Acid 400 mcg 4%

Vitamin B6 40 mcg 2%

Zinc 1 mg 8%

Riboflavin 68 mcg 4%

Thiamin 225 mcg 15%

Trans Fat 0 g

*percent Daily Values are based on a 2,000 calorie diet.

Ingredients: Oats, Whey Protein Isolate, Real Apple Chunks, Natural Flavor, Sea Salt, Sucralose.

These statements have not been evaluated by the Food and Drug Administration. This product is not intended to diagnose, treat, cure or prevent any disease.

Directions
In the Microwave: Empty the contents of one pouch into a microwave-safe bowl or cup. Stir in 1/4 to 1/3 cup (2-3 ounces) of water. Microwave for 20-30 seconds, or until hot. Stir and enjoy!

With Hot Water: Empty the contents of one pouch into a bowl or cup. Or, you can cut or tear the pouch along it's long edge to use it as a convenient and disposable bowl on the go! Add 1/4 to 1/3 cup (2-3 ounces) of boiling water. Stir and enjoy!


For a thicker oatmeal, use less water.


For thinner oatmeal, use more water.