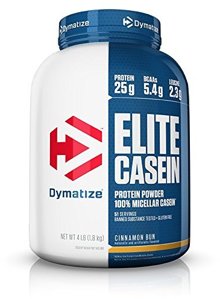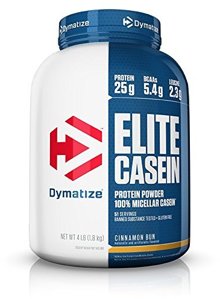 DYMATIZE ELITE CASEIN XT provides 24 grams of slow digesting casein protein per serving. ELITE CASEIN XT is specifically designed to digest more slowly in your body than other rapid release protein sources such as whey. This slow digestion is a result of the natural pH sensitivity of Casin Protein in the digestive track. Because of the natural thickening effect of ELITE CASEIN XT in the low pH environment of the stomach, a prolonged and steady release of protein is obtained. This delayed digestion is often desirable, especially at bedtime or other periods when your body can go for an extended period of hours without food.

ELITE CASEIN XT is further enhanced by the addition of NUTRATERIC, a revolutionary, pharmaceutically- developed coating system. This delayed release technology allows the specific material it coates to release at a particular pH range. In fact, with this coating process, the resting digestion can take more than twice as long as other forms of non-coated protein, further enhancing the extended release capacity of Dymatize ELITE CASEIN XT.

Each serving of ELITE CASEIN XT. is delicious and satisfying. Due to the naturally hydroscopic nature of casein proteins, ELITE CASEIN XT. is noticeably thicker and smoother than other non-casein based products. ELITE CASEIN XT. is made from only protein sources with a PDCAAS (protein digestibility corrected amino acid)of 1.0 (perfect score) or higher. With 24 grams of Casein-derived protein, and about 10 grams of BCAAs, Glutamine and Precursors teamed with the revolutionary NUTRATERIC coating, ELITE CASEIN XT. will help you achieve all your fitness goals.
* These statements have not been evaluated by the Food and Drug Administration. This product is not intended to diagnose, treat, cure, or prevent any disease.