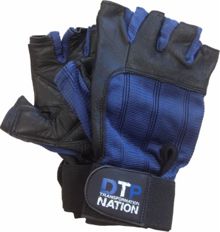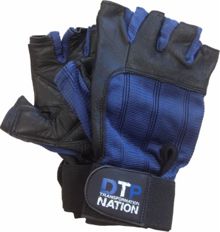 The DTP line of straps, wraps and gloves were designed from years in the gym, not by a seamstress. Kris Gethin personally bled, screamed, and pushed his body beyond failure so you could choose high-grade accessories to build your own quality physique.
Never a fan of lifting gloves, Kris Gethin wanted to create a pair that didn't interfere with his grip or take away from the real experience of holding onto a bar. The DTP gloves are extremely pliable with a very slim palm covering and supporting Velcro straps. "My hands would always rip apart when I would pull on heavy loads for rows or shrugs - it wasn't the kind of pain I wanted. All the other gloves I had tried were either too stiff or had too much padding, so I knew I had to come up with a solution," says Gethin.
The solution he created is now available to you!
Double leather palm and fingers surround a layer of resilient foam to protect hands against abrasion
Heavy duty stretch back extends across fingers and back of the hand to enhance ventilation, flexibility, comfort and fit
Reversed top grain leather on palm maximizes abrasion resistance without compromising tear strength
Double stitched throughout for superior durability and abrasion resistance
Sharp and stylish DTP design projects a cool lifestyle
Velcro fastening elasticated wrist strap for neat and flexible fit