Quick Links to Best Prices Price History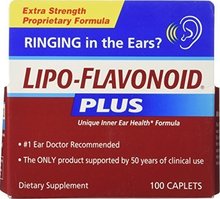 DSE Healthcare Lipo-Flavonoid Plus Ear Health Formula
Lipo-Flavonoid Plus Ear Health FormulaOverview

Lipo-Flavonoid Plus Ear Health Formula is specifically designed to help relieve symptoms of tinnitus, a condition producing sensations of ringing in the ears. Tinnitus can arise suddenly and be quite persistent and bothersome. It's caused by poor circulation in the inner ear and can even be a preliminary warning sign of Meniere's Disease, which has been shown to cause vertigo, loss of balance and poor hearing. The all natural citrus bioflavonoids and B-vitamins found in Lipo-Flavonoid Plus help improve inner ear circulation, preventing tinnitus and alleviating ringing ear symptoms. Each serving of Lipo-Flavonoid Plus contains a 1.5g proprietary blend of eriodictyol glycoside standardized extracts, a lemon-peel citrus bioflavonoid that has been shown to promote inner ear health by improving blood circulation in and around the vital sections of the ear. If you're currently suffering from tinnitus or occasional ringing in the ears, pick up some Lipo-Flavonoid Plus today to quickly relieve your symptoms.
Lipo-Flavonoid Plus Ear Health FormulaDescriptionfromDSE Healthcare
Do you suffer from the sensation of ear ringing? Well, you aren't alone - 50 million people of all ages suffer from this sensation or a form of it, and it is what doctors call tinnitus. Tinnitus is a serious and debilitating condition, and it can also be a symptom of Meniere's Disease, which couples this ear ringing sensation with loss of balance, vertigo and other symptoms.

Lipo-Flavonoid is a dietary supplement that has been designed specifically for people with tinnitus and Meniere's Syndrome. It safely provides nutritional support to improve circulation in the inner ear for overall ear health and has been used by doctors since the 1960s. When the circulation in the inner ear is improved, the microscopic hair cells responsible for transmitting electrical impulses of sound to the brain stay flexible and fluids within the ear canals flow better. (The mixing of the fluids in the ear brings on the ringing in Meniere's Syndrome; Lipo-Flavonoid helps prevent this.)

Secondly, and most importantly, the ingredients in Lipo-Flavonoid are safe. Lipo-Flavonoid contains eriodictyol glycoside, bioflavonoids, vitamin B6 and B12 (B complex), vitamin C, niacin, riboflavin, thiamine, choline, inositol, and pantothenic acid. These are all vitamins and not prescription drugs. Eriodicytol glycoside is an extract from citrus bioflavonoid and has been shown to aid in maintaining inner ear health and improving microcirculation in the ear. They are vitamins that we need daily and have been shown in scientific studies to be effective in promoting health.

Besides promoting general health, Lipo-Flavonoid helps maintain inner ear health and this makes you less susceptible to tinnitus and/or reduces the intensity of the ear ringing. With good ear health comes better hearing.
Supplement Facts
Serving Size: 3 caplets
Servings Per Container: 10
Ingredient
Amount
% Daily Value**
Vitamin C (ascorbic acid)
300mg
500
Vitamin B1 (thiamine mononitrate)
1mg
67
Vitamin B2 (riboflavin)
3mg
177
Niacin (niacinamide)
10mg
50
Vitamin B6 (pyridoxine HCl)
1mg
50
Vitamin B12 (cyanocobalamin)
5mcg
83
Pantothenic Acid (as calcium pantothenate)
5mg
50
Calcium (as dicalcium phosphate)
87mg
9
** Percent Daily Value is based on a 2000 calorie diet. Your daily values may be higher or lower depending on your calorie needs.
† Daily Value not established.

Ingredients:
Other ingredients: powdered cellulose, hydrogenated soybean oil, croscarmellose sodium, stearic acid, magnesium stearate, silicon dioxide, ethyl vanillin, hypromellose, polyvinyl alcohol, titanium dioxide, lecithin, FD&C red #40 lake, FD&C yellow #6 (sunset yellow), xanthan gum and FD&C blue #1 lake, triacetin, carnauba wax and talc. Contains soy.
Manufacturer's Directions
1 caplet 3 times a day, preferably after a meal, as a dietary supplement or as recommended by your healthcare professional. For faster results, take 2 caplets three times a day for up to 2 months. For best results, use for at least six months. Free of sugar, starch, yeast, wheat, corn, milk products & preservatives.
Manufacturer's Disclaimer
Keep out of the reach of children. If you are pregnant or nursing a baby, seek the advice of a health professional before using this product.