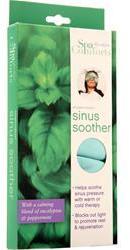 Dreamtime Sinus Soother Microwavable Mask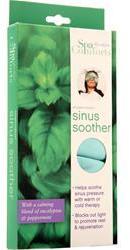 Dreamtime Sinus Soother Microwavable Mask
Sinus Soother Microwavable Mask Description from Dreamtime
-Helps open the sinues and relieve congestion

-Contains the plant herbs peppermint & eucalyptus

-Microwavable for heat therapy

-Freezable for cold therapy

"This supple pillow provides deep, penetrating sinus and headache relief with a mixture of pressure and aromatherapy. The decongestant properties of peppermint and eucalyptus get to work while the face-contouring grains cover the sinus passages and fall gently into the hollows of the eyes. Take a deep breath, even in the height of allergy season. Now that's how I smell relief!"
Manufacturer's Directions
Warm Use: Microwave in 20 second intervals until desired temperature is achieved. Test temperature before using. Pillow should feel warm, not hot. Never leave pillow unattended while microwaving.

Cold Use: Wrap and seal in plastic bag and place in freezer for 2 hours, may be left in freezer until ready for use.

Do not wash grain pack.