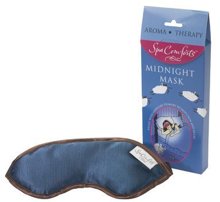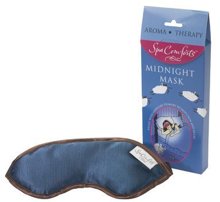 Midnight Mask Description from Dreamtime
After a busy day, Spa Girl knows it's "in" to have lights out. "Who needs the sand man when you've got this soothing sleep mask to keep those pesky light rays at bay? Fresh lavender flowers are sprinkled inside to quiet delicate senses while the mask's snug fit and ergonomic design relieves tired eyes, and blocks out light so you can get down to the business of snoozing in style. With the Midnight Mask, you'll sleep deeper than before - and wake up refreshed...the difference is night and day!"
Manufacturer's Directions
Do not heat in microwave. Do not wash.