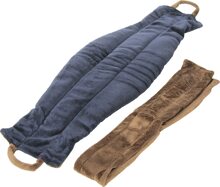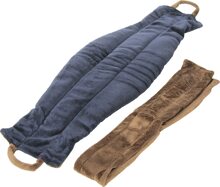 Back Belt Description from Dreamtime
Spa girl's got your back...your knee, leg or whatever pretty part needs pampering with hot or cold therapy. Whether it's a sore pulled muscle from the gym or yoga, an ache or pain from overworking, Spa Girl uses her trusty back belt to provide the needed hot or cold therapy to heal in a healthy way. The Peppermint and Lavender flowers sprinkled inside release a delicious aroma to uplift and delight your senses. Microwave and let the warm heat therapy penetrate deep into sore, tight muscles. Chill in the freezer and let the cold therapy sooth sports injuries and cool you down on hot summer days.
Manufacturer's Directions
Warm Use: Microwave in one minute intervals until optimal temperature is achieved. Test temperature before using, it should feel warm not hot. Never leave unattended in microwave

Cold Use: Place in sealed plastic bag and leave in freezer for at least 6 hours. Wrap may be left in freezer until needed.

To Wash: SPOT CLEAN ONLY. Do not get grain pack wet.