Warning: This product is not currently available at any store.
Click the button above and PricePlow will email you when the first store has it in stock!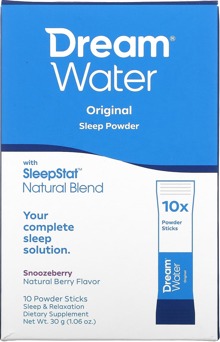 Dietary Supplement
New4 Shot Value PackPromotes Natural Sleep
Natural Berry Flavor
With Over 70 Million Americans Suffering from Sleep Issues Every Night, Dream Water Provides an Alternative to Counting Endless Sheep
Natural, Promotes Fast-Action, 0-Calorie 2.5-Ounce Sleep & Relaxation Shot
Helps with Relaxation & Promotes Restful Sleep
Helps You Wake Up Feeling Rested & Rejuvenated
Proprietary SleepStat Natural Blend: GABA, Melatonin,& 5-HTP
Breakthrough Innovation & Scientific Discovery
Convenient Size & Supportive Fast Acting Liquid Form
Developed with Sleep & Relaxation Experts
Features the Unique SleepStat Natural Blend — This Propriety & Natural Formula Includes 3 Proven Ingredients to Help You Relax & Fall Asleep: GABA (Which Can Help Reduce Anxiety), Melatonin (Which Can Help Induce Sleep), 5-HTP (Which Can Help Improve Sleep Quality)
Sleep TipsReady
Maintain a Regular Sleep Schedule
Limit Caffeine Intake
Omit Daytime Naps
Set
Avoid Alcohol, Nicotine & Excessive Eating Near Bedtime
Finish Exercising At Least 2 – 3 Hours before Going to Sleep
Enjoy a Hot Shower or Bath
Sleep Easy
Reduce Evening Light Exposure (TV, Computer, etc.)
Keep Your Sleep Environment Dark & Cool
Listen to Calming Music or Other Soothing Sounds
Drink a Dream Water
4 - 2.5 fl oz (74 ml) Shots ~ Total Net Wt 10 fl oz (296 ml)
Made in USA
*These statements have not been evaluated by the Food and Drug Administration. This product is not intended to diagnose, treat, cure or prevent any disease.
Warnings
Consult your doctor if you are under the age of 18, have any medical conditions, are taking medications, or you are pregnant or nursing. Discontinue use and consult your doctor if any adverse reactions occur. Do not drive, operate machinery, or perform other important tasks when taking this product. It is not recommended to drink more than 1 serving in a 24 hour period. Refrigerate after opening. Discard after 5 days of opening.
©Dream Products, LLC