Warning: This product is not currently available at any store.
Click the button above and PricePlow will email you when the first store has it in stock!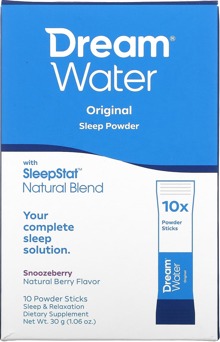 From the Manufacturer Sleep easier with Dream Water, an all-natural, 0-calorie 2.5-ounce sleep and relaxation shot. Our proprietary SleepStat Natural Blend is formulated with three active ingredients that can help you enjoy better-quality sleep. Dream Water also helps you relax, so you can enjoy a more restful slumber and wake refreshed. This sugar-free sleep aid is sweetened with Stevia and comes in a variety of natural flavors including Snoozeberry natural berry flavor and Paradise PM natural tropical flavors. Sleeping better helps you wake up feeling more refreshed and ready to face your day. Dream Water is a natural, 0-calorie, 2.5 ounce sleep and relaxation shot featuring the unique, fast-acting Sleep Stat Natural Blend a proprietary formula of GABA, which should help reduce anxiety, melatonin, which should help induce sleep, and 5 HTP, which should help improve sleep quality. Scientifically formulated and drug free, Dream Water's key ingredients work together to help you relax, fall asleep naturally, and wake up refreshed. Dream Water sleep and relaxation shot. 0 calorie, natural, drug-free, fast acting, wake refreshed, scientifically formulated. These statements have not been evaluated by the Food and Drug Administration. This product is not intended to diagnose, treat, prevent or cure any disease. Directions for use: while times may vary by individual, drink a bottle approximately 30 minutes prior to wanting to promote relaxation and support restful sleep. Warnings: consult your doctor if you are under the age of 18, have any medical conditions, are taking medications, or you are pregnant or nursing. Discontinue use and consult your doctor if any adverse reactions occur. Do not drive, operate machinery, or perform other important tasks when taking this product. It is not recommended to drink more than 1 serving in a 24-hour period. Refrigerate after opening. Discard after 5 days of opening.