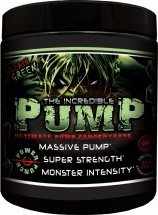 Double Dragon The Incredible Pump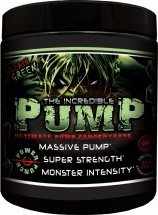 Double Dragon The Incredible Pump
THE INCREDIBLE PUMP combines 9 of the most notable "pump" ingredients,
all at effective dosages, in a single scoop. No hidden, proprietary blends. Every ingredient amount is listed, so you know what you're taking.

THE INCREDIBLE PUMP works through multiple "pump" pathways.
Many "pump" products out there work strictly by trying to increase nitric oxide with arginine only. But excess arginine is often broken down and excreted by an enzyme called arginase. Arginine also needs the help of an enzyme in the body, nitric oxide synthase, to convert to nitric oxide. Our unique formula contains ingredients that suppress arginase, ingredients that enhance nitric oxide synthase, and even ingredients that work without the help of nitric oxide synthase to achieve a pump you have never experienced with another product.

It is not just about the pump, either.
Creative Dimalate is included for increase strength and endurance. Added Leucine and N-carbamylglutamate (NCG) increase protein synthesis for greater strength and lean mass gains.
THE INCREDIBLE PUMP is the strongest, most comprehensive pre-workout pump formula
on the planet! We actually had some trouble coming up with a name for this product, until we kept hearing the same feedback from our testers: "The pump is INCREDIBLE!"
Warning: Do not take with other nitrate products. Excess nitrate consumption may result in adverse effects including headache and nausea. Do not take if you are currently taking nitrates for chest pain or if you are taking erectile dysfunction medication. Do not take if you are pregnant or nursing. This product only intended to be consumed by healthy adults age 18 or older. Consult your physician before using this product if you are taking any prescription or over the-counter medication, or if you have any medical condition including but not limited to: heart, liver, or kidney disease, high or low blood pressure, arrhythmia, stroke, seizure disorder, psychiatric disease, diabetes, or difficulty urinating due to prostate enlargement. Discontinue use if you have any adverse reaction to this product.
Note: Manufacturers continually change product specifications. While we try our best to keep product descriptions up to date, they do not necessarily reflect the latest information available from the manufacturer. We are not responsible for incorrect or outdated product descriptions and/or images.

These statements have not been evaluated by the Food and Drug Administration. This product is not intended to diagnose, treat, cure, or prevent any disease.