Quick Links to Best Prices Price History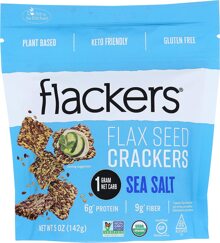 Doctor in the Kitchen Flackers
Doctor In The Kitchen Flackers Flax Seed Crackers Dill Description
Made with Organic Flax Seeds & Organic Herbs and Spices
Gluten Free • RAW
7 g Fiber • 5 g Protein & 4 g Omega 3's
Non GMO Project Verified
Vegan
Kosher
I have always been passionate about eating well and being healthy. I believe that "Good Food is Wise Medicine." I developed flackers for myself and my clients because it's an easy way to get all the amazing nutritional benefits of flax in a tasty cracker. They loved them and now I am bringing them to your!
-Alison Levitt, MD
flackers Flax Seed Crackers
Flackers are a delicious, super healthy, gluten-free flax seed cracker. The organic flax seeds are sprouted making them easier to chew, digest and absorb. Flackers are dehydrated at low temperatures to ensure that all the nutrients, including the omega-3's and important enzymes remain vitalized and stable.
Flax Seed Benefits
Flax seeds are nature's perfect health food and should be part of every optimal health and longevity diet. They are one of the best plant source of alpha linolenic acid, a heart healthy omega-3 fatty acid. See the front of the box for the amount ti maintain normal cholesterol levels and to promote optimal digestion (se nutritional panel for amount of fiber per serving). They are also low on the glycemic index, making them beneficial for diabetics.
Flackers are handcrafted with love and care using only the finest natural and organic ingredients. We hope you enjoy them! Share the goodness with your friends and like us on facebook as we welcome your feedback!
Directions


Flakers make a great snack on their own or for a healthy and nutritious carb meal replacement try them with hummus, guacamole, sliced avocado or your favorite nut butter or spread, Enjoy!

Seal tightly after opening and store in a cool, dry place or refrigerate.
Free OfGluten and GMO.