Quick Links to Best Prices Price History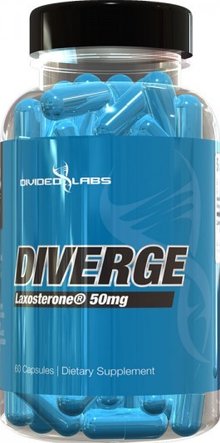 Anabolic Powerhouse
Have you heard of Laxogenin? Laxogenin (Laxosterone) is one of the hottest muscle building supplements on the market since the ban of pro hormones. Laxogenin is a plant steroid that when used as a dietary supplement has shown results in size and muscle gain similar to that of anabolics and pro hormones. The ingredient has been around since 1992, but has just recently gained popularity and relevance.[1] Laxogenin is extremely mild in terms of side effects, with no reported cases of hair loss or estrogen rebound that can be experienced when taking pro hormones. A PCT is not required when using Laxogenin, but can be used for better results. When taking a clinical dose of Laxogenin, users report higher amounts of muscle gain than with diet and exercise alone.
Why Divided Labs Diverge?
Diverge is the only supplement on the market providing a clinical dose of Laxogenin. 100mg Laxogenin per day is the clinical dosage, which equates to 2 caps of Diverge. A recommended cycle length is 4 weeks on followed by 4 weeks off. So one bottle of Divided Labs Diverge will provide a clinical dosage for one full length cycle. Divided Labs uses only quality ingredients from reputable sources of Laxogenin.
Key Product Features
Hardest Hiting Legal Anabolic On The Market
Backed By Over 20 Years of Scientific Research And Studies
Increases Protein Synthesis And Nutrient Partitioning By Over 200%
Dramatically Increases Strength Within 3-5 Days
Improves Vascularity And Muscle Fullness
Significantly Boosts Metabolism
Directions
As a dietary supplement take 1-2 capsules of Diverge daily with food. Do not exceed 2 capsules a day. Use this product for up to 12 weeks and then cycle off for 4 weeks.
Warnings
These statements have not been evaluated by the Food and Drug Administration. This product is not intended to treat, cure, diagnose, or prevent any disease. This product should not be used in place of or as a substitute for recommendations by your healthcare professional.
Divided Labs Diverge Supplement Facts
Serving Size: 1 Capsule
Servings per container: 60
Amt. per serving
% DV
Laxosterone:
(5a-hydroxy laxogenin)
50mg
**
Other Ingredients: Gelatin (Capsule), vegetable magnesium stearate, vegetable cellulose & silicon dioxide.
** Daily Value Not Established
References
1. http://www.ncbi.nlm.nih.gov/pubmed/1369386