Warning: This product is not currently available at any store.
Click the button above and PricePlow will email you when the first store has it in stock!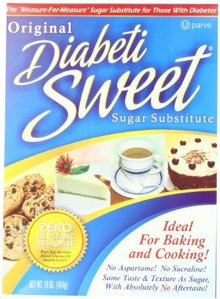 Diabetisweet Sugar Substitute
You can now enjoy chocolate brownies, cheesecake, and many other sweet treatswith DiabetiSweet, a sugar substitute for baking and cooking. The sweetener looks, tastes, and even bakes just like sugar.
Unlike other sweeteners, DiabetiSweet maintains itsgreat taste at high temperatures, so it's ideal for baking and cooking. DiabetiSweethas the same granulated texture. Use it in coffee or tea. It's perfect for sprinkling over cereal, strawberries, or any of yourfavorite foods. DiabetiSweet is sweetened with Acesulfame-K, a highintensity non-nutritive sweetener. It also contains Isomalt, a heat-stablebulking agent that adds volume to cakes, breads, and other recipes. DiabetiSweet does not contain Sucrose, Fructose, Dextrose, Maltodextrin, Sodium orSaccharin.