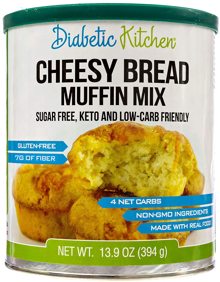 Diabetic Kitchen Cheesy Bread Muffin Mix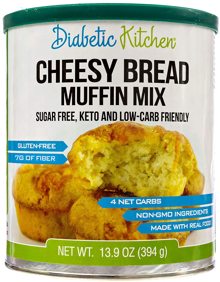 Diabetic Kitchen Cheesy Bread Muffin Mix
THE GREAT TASTE OF BREAD WITHOUT THE HIGH CARBS - Whether you're on a diabetic, keto, low carb or LCHF diet, you'll love these premium bread muffins that go great with any meal or even as a snack (they're great with sugar-free jam).

EASY TO MAKE - Just Add Milk, Butter, Eggs and Aged Cheese. For a Savory Muffin Add Garlic Powder, Fresh Herbs or Cooked Bacon To The Mix. One Can Makes 48 Mini-Muffins.

TASTES GOOD AND GOOD FOR YOU - With Two Sources of Natural Prebiotic Fiber, You Can Enjoy Bread Guilt-Free While Feeding The Healthy Bacteria In Your Gut. Each Serving Contains 28% of The Daily RV For Fiber, Which Has Many Health Benefits And Helps Manage Insulin Response.

REAL FOOD INGREDIENTS: Milled Sunflower Seeds, Prebiotic Dietary Fiber, Low Glycemic Resistant Corn Starch, Gluten-Free Oat Flour, Sea Salt, Baking Powder. All Non-GMO Ingredients Made In A Certified Gluten-Free Facility.

NO ARTIFICIAL SWEETENERS - We Don't Use Sugar Alcohols, Aspartame, Sucralose, Fillers, Binders or Artificial Flavors of Any Kind So You Can Be Assured That You're Getting Only Healthy Ingredients That Are Gluten-Free, Soy-Free and Sugar-Free.
More