Warning: This product is not currently available at any store.
Click the button above and PricePlow will email you when the first store has it in stock!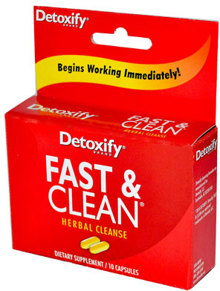 Detoxify Fast & Clean - Herbal Cleanse
Product Description
Fast & Clean Herbal Cleanse by Detoxify
Detoxify Brand Fast and Clean Herbal Cleansing Capsules help you to enjoy a healthier, cleaner body. Detoxify's FAST & CLEAN Herbal is a powerful blend of herbs in a convenient capsule form. FAST & CLEAN is the easy way to help lower impurities your body absorbs everyday. If youd rather have convenient capsules instead of a drink, Fast & Clean is the perfect option.

Fast & Cleans proprietary blend of herbs includes:
1. Dandelion - Herbalists use this potent herb to support healthy liver & gallbaldder function.
2. Milk Thistle - Helps to restore healthy liver function & minimize toxin damage.
3. Cranberry - Recommended by traditional and alternative healthcare professionals to maintain urinary tract health.
4. Uva Ursi - Historically used to promote kidney & urinary health.

Enjoy a healthier, cleaner body with Fast & Clean Herbal, Detoxify's powerful blend of herbs in a convenient capsule form. Fast & Clean is the easy way to help lower impurities your body absorbs everyday.

How do Detoxify Brand products work?
No other detox product on the market has been more thoroughly researched than Detoxify. Their research found that the powerful cleansing herbs in Detoxify work with the bodys natural processes to remove harmful toxins and impurities. Regardless of your lifestyle or environment, Detoxify will help restore your body to its balanced, healthy state.

Millions of people just like you have confirmed what Detoxify Brand has found in their research. Ready Clean, Xxtra Clean, Mega Clean, and the other Detoxify Brand products work. That is why Detoxify is synonymous with reliability research you can count on, products you can trust.

Detoxify Ready Clean The Original Detox Drink
The Ready Clean story began more than a decade ago. For more than 10 years, Detoxify Ready Clean has been helping people achieve all of their intensive cleansing goals.

A Simple Idea
Before Ready Clean, intensive programs were teas or powders that required brewing, mixing, and complicated preparation. At Detoxify, they asked themselves, Why cant a detox product be powerful and easy to use?The answer to that question became the original detox drink Ready Clean.

Ready Clean Goes Thin
The original Ready Clean formula was fiber-based, thick, and sometimes difficult to drink. But it worked, and it quickly caught on with people who were serious about periodic intensive cleansing. That wasnt good enough for Detoxify though. They continued to research, continued to test, and out of all their testing came a thin, great-tasting Ready Clean that was just as powerful as the original.

Herbal Ready Clean
Ongoing research into herbology yielded the proprietary herbal blend in Ready Clean today. The Ready Clean formula addresses all 3 key aspects of internal cleansing:
Powerful cleansing herbs and fiber
Herbs that stimulate the metabolism
Vitamins & minerals

Obviously, cleansing herbs and fiber that support the function of the organs that are responsible for cleansing the kidney, liver, gallbladder, digestive system, and urinary system - are a must in any detox formula. Cleansing is optimized when the metabolism is also stimulated. Most people's metabolisms are depressed due to lifestyle choices, so the Ready Clean contains herbs that support healthy metabolic function. And finally, intensive cleansing can deplete key nutrients in the body. Therefore, Ready Clean provides critical vitamin and mineral supplementation.

Strong Enough For Him, But Made For Her
Another insight yielded by the extensive research into Ready Clean and intensive cleansing was that the physiology of men and women is different. Therefore, they expanded their offering of detox drinks to include Ready Clean for Women. Ready Clean for Women provides the same powerful cleansing as Ready Clean, but including CranXtract, it is specifically formulated for a womans body chemistry.

Try Ready Clean for Yourself
Just like millions of people before you, Detoxify Ready Clean will work for you.

How their expertise works for you.
Cleansing is important to you, and your health and happiness is important to them. Toxins and impurities are everywhere. Our environments, food, and lifestyle choices make them toxic. Detoxify Brand knows how important it is to you to be clean, and that is why detoxification is all that they do. They know the body. They know the herbs that help cleanse the system. They know the cleansing process. And they use that expertise to make sure that every Detoxify Brand product gives you the maximum cleansing benefit.

How their time in detox works for you.
Getting clean is important. You want a product that has stood the test of time. Detoxifys first product came to market in 1994, and theyve been cleansing toxins and impurities for people like you ever since. 15 years after they started, Detoxify Brand products like Ready Clean, Xxtra Clean, and Mega Clean keep on delighting their customers every single day.

How their commitment to research works for you.
You cant trust your cleansing program to snake oil. Thats why Detoxify Brand has engaged in ongoing research for years with nutritionists, food scientists, herbalists, and nationally-recognized labs. Their products have been researched, studied, and tested. Detoxify does research you can count on, and provides products you can trust.

How our innovations work for you.
Why should your cleansing program be any more difficult than it needs to be? Detoxify Brand is constantly innovating to bring you products that work AND are enjoyable to use. Detoxify drinks like Ready Clean, Xxtra Clean, and Mega Clean are ready-to-drink and easy. Detoxify Fast & Clean capsules are convenient and portable. They're always thinking about how to help you get all of the cleansing benefits with no hassle. Thats the real test of innovation.

How their unsurpassed quality works for you.
Detoxify Brand doesnt take making ingestible herbal cleansing products lightly. You trust them by putting Detoxify in your body. You trust your cleansing needs to Detoxify. And they honor that trust by only using the highest quality ingredients, in time-tested formulations. Detoxify Brand products are made in accredited facilities in the United States. We pay attention to details so you dont have to.


Fast & Clean Herbal Cleanse Directions:

For best results, take Precleanse Herbal capsules with a recommended six, 16 ounce glasses of water per day prior to beginning your Fast & Clean cleansing program.

1. Drink one 16 oz. glass of water with 2 capsules.
2. Wait 15 minutes. Drink another 16 oz. glass of water with 2 capsules.
3. Repeat step 2 until all capsules are gone.
4. Urinate frequently.
5. Eat light meals including fruits, vegetables and fiber during your cleasing program.

Off Cycle Guidance:
During an "off" cycle, use an effective post cycle testosterone boosting product. We recommend using Aftermath PCT by GX Supplements as post cycling agents.


Liver Care Information
Liver Care supplements help to detoxify the liver of the many bad toxins that are both processed and passed through the liver. Prohormone supplements are water soluble and thus break down in the liver. Liver Care Supplements help to combat any sort of side effect from arising, and furthermore help to detoxify the liver. Alcohol as well is very harsh on the liver, so using Liver Care supplements all year long is a great idea for every individual.
Learn More About Proper Liver Care

Post Cycle Information:
Post Cycle therapy is crucial in helping your body recover after a prohormone cycle. Post cycle therapy aims to restore the balance of the body, called homeostasis. Many of the supplements taken today by extreme athletes require a post cycle therapy supplement. This is because these supplements increase a particular production level in the body to a point that the body could not produce on its own. As a result the body responds by reducing its own production of that substance.
Browse Post Cycle Therapy Products
Learn More About Post Cycle Therapy Support

Anti-Estrogen Information
Anti-Estrogens are primarily used for estrogen blocking and inhibition. They also help to elevate levels of testosterone, to combat the decrease of natural testosterone level production when using a prohormone.
An Example of an anti-estrogenic compound is 6-OXO, which is also known as 4-androsten-3,6,17-trione3,6,17-androstenetrione androst-4-ene-3,6,17-trione 6-ketoandrostenedione. Its purpose is to serve as a steroidal aromatase inhibitor, also known as a suicidal inhibitor, because it permanently binds to the aromatase enzyme.
Learn More About Anti-Estrogens



Fast & Clean Herbal Cleanse Ingredients:

Fast & Clean Herbal Cleanse:


Product WARNINGS

Pregnant or breastfeeding women should consult their physician before taking this product.

Mega Clean is not intended for children.

Please read the warnings and directions that are posted on the label of this bottle carefully. Nutriverse does not endorse any of the statements made by this manufacturer, and by buying you consent that you are at least 18 years old.

Product Features:
•On Cycle Therapy
•Liver Care
•Side Effect Prevention
• Detox


Keywords: Fast & Clean Herbal Cleanse, Detoxify, Liver Care, On Cycle Therapy, Detox, Side Effect Prevention, Prohormone Cycles
While we work to ensure that product information is correct, on occasion manufacturers may alter their ingredient lists. Actual product packaging and materials may contain more and/or different information than that shown on our Web site. We recommend that you do not solely rely on the information presented and that you always read labels, warnings, and directions before using or consuming a product. For additional information about a product, please contact the manufacturer. Content on this site is for reference purposes and is not intended to substitute for advice given by a physician, pharmacist, or other licensed health-care professional. You should not use this information as self-diagnosis or for treating a health problem or disease. Contact your health-care provider immediately if you suspect that you have a medical problem. Information and statements regarding dietary supplements have not been evaluated by the Food and Drug Administration and are not intended to diagnose, treat, cure, or prevent any disease or health condition. Nutriverse assumes no liability for inaccuracies or misstatements about products.