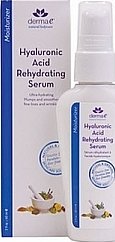 derma e Hyaluronic Acid Rehydrating Serum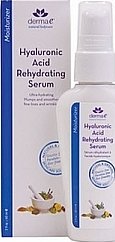 derma e Hyaluronic Acid Rehydrating Serum
Oil-Free Moisturizer
Ultra hydrating. Plumps and smoothes fine lines and wrinkles
An intense, nourishing serum that can be used in combination with other derma e moisturizers to enhance their effect. May also be used alone for those with oily or blemish prone skin.
Hyaluronic Acid has an amazing ability to bind moisture to tissue to soften, smooth, tone and rehydrate skin
Reduces the appearance of fine lines and wrinkles by plumping skin tissue
We're serious about skin care
We craft each batch carefully to ensure you receive the finest natural and organic skin care available. We use scientifically proven natural ingredients in effective amounts to provide noticeable results. All our products are free of parabens, phthalates, sodium lauryl sulfates, petrolatum, mineral oil, artificial colors and fragrances and are pH balanced, 100% vegetarian and cruelty free.
derma e is Family Owned and Operated
Proven Natural Formulations Since 1984
Cruelty-Free / vegan
Paraben -Free
* These statements have not been evaluated by the Food and Drug Administration. This product is not intended to diagnose, treat, cure, or prevent any disease.