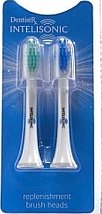 DentistRx Intelisonic Replenishment Brush Heads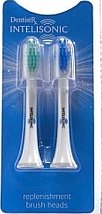 DentistRx Intelisonic Replenishment Brush Heads
Tri-Peak Bristle Replacement Brush heads for the Intelisonic Brush System.
Pack of 2
Clinically proven to remove plaque. Conforms to contour of teeth for effective, deep cleaning.
Improves overall gum health
Naturally whitens teeth
Safe on teeth and gums
DentistRx was founded by a group of dental professionals to develop products that enhance oral care and promote overall health. DentistRx is committed to providing better choices and better options for better results.
* These statements have not been evaluated by the Food and Drug Administration. This product is not intended to diagnose, treat, cure, or prevent any disease.