Warning: This product is not currently available at any store.
Click the button above and PricePlow will email you when the first store has it in stock!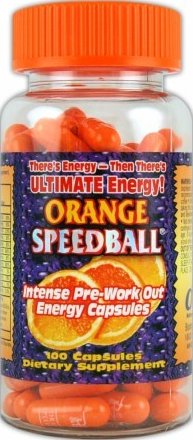 This supplement may give your workout a special dimension.
It is especially designed for every sportsman, weekend warrior or professional athlete. Its blend of synergistic ingredients may give an incredible boost to your workout.*
What's In It?
Yerba Mate: (or Ilex Paraguariensis) is a South American herb used to promote mental alertness, combat fatigue, support immune system function, stimulate the nervous system, maintain a healthy appetite, and support restful sleep.* Yerba Mate contains a form of caffeine and the alkaloid theophyllin that many people find easier on the nervous system, and is also a rich source of vitamins, minerals, amino acids and antioxidants.*
Guarana: Guarana is an herb found in the Brazilian rain forest that contains guaranine, a natural form of caffeine, as well as the alkaloids theobromine and theophyllin, and tannins. Guarana has an energizing effect on athletic activities, quickens perception, acts as an appetite suppressant, and helps combat sleepiness.*
Bitter Orange: A member of the citrus family, Bitter Orange contains generous amounts of vitamin C, as well as many other vitamins and minerals. Several of its substances are known to promote metabolic rate, which in turn supports calorie burning and helps to suppress the appetite; since it has a calming effect on the nerves.*
Korean Ginseng, Siberian Ginseng: Asian Ginseng has a long history of uses. Ginseng's actions in the body are due to a complex interplay of constituents. The primary group are the ginsenosides, which are believed to increase energy and stamina, counter the effects of stress, promote intellectual and physical performance, and support the immune system as by supporting the adrenal glands and by increasing the use of oxygen by the muscles.*
Green Tea: Green tea contains volatile oils, vitamins, minerals, and caffeine, but the active constituents are polyphenols, particularly the catechin called epigallocatechin gallate (EGCG). Green tea polyphenols are antioxidant compounds, even more strong than those of vitamin E and vitamin C.* Green tea also has a high vitamin B content that helps the human body better deal with stress and release more energy.*
Orange Peel Bioflavonoids: Orange Peel is a rich, natural source of citrus bioflavonoids, essential for the processing of vitamin C and maintaining the capillary walls, as well as supporting the digestive system.* Bioflavonoids are beneficial in a wide range of health-related uses because of their antioxidant abilities.*
Grapefruit Extract: Not only does it supply many necessary vitamins and minerals, grapefruit extract aids in appetite suppression and many experts believe it promotes your body's ability to burn fat.*
Cayenne Pepper: Cayenne provides the body with fat-burning properties along with the ability to act as a catalyst that helps optimize the effectiveness of other herbs.* Cayenne also appears to exert a number of beneficial effects on the cardiovascular system.*