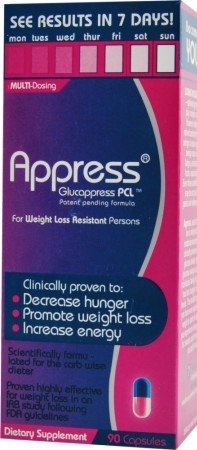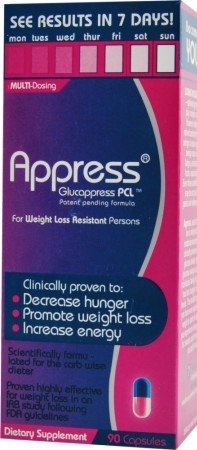 Appress (Glucappress PCL ) is a natural, non-hormonal,
dietary supplement suggested to have a positive impact on weight loss, serum glucose control, hunger level and energy levels when used in conjunction with a non-calorie restricted diet low in refined carbohydrates and an exercise program of 80 total minutes per week.* Appress supports weight loss by promoting glucose control, reducing hunger levels and promoting higher energy levels.*
Serum Glucose Levels and Weight Loss*
Weight loss can be extremely difficult in the face of widely fluctuating serum glucose levels. While the exact mechanism of what we feel as "hunger" is an interplay of a variety of factors, large peaks and valleys in serum glucose levels can make it extremely difficult to lose weight and keep it off which leads to a weight loss resistant state.
In the face of a rapid and high rise in serum glucose, a burst of insulin is released from the pancreas. This insulin drives glucose into the cells. The priority storage areas are in the liver and muscle, where the glucose is converted into glycogen. Once these reserves are full, the glucose is converted into fat in our fat cells to be used as a longer term energy supply depot. Furthermore, it is felt that the liver and muscle cells become resistant to insulin more quickly and to a greater degree than fat cells.
For a given level of insulin in the blood, the relative effect promoting uptake of glucose will be greater for the fat cells than for the liver and muscle cells. This leads to the fat cells taking in a higher amount of glucose more quickly and storing it as fat. As the body develops an increasing fat level, insulin resistance worsens and the cycle continues, making weight loss extremely difficult.