Warning: This product is not currently available at any store.
Click the button above and PricePlow will email you when the first store has it in stock!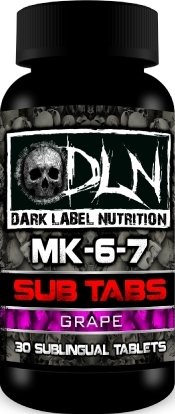 Dark Label Nutrition MK-6-7
Dark Label Nutrition MK-6-7


MK-6-7 by Dark Label Nutrition is an orally active growth hormone secretagogue. Secretagogue is the term used to describe a compound that chemically signals the pituitary gland to secrete growth hormones within the body. Unlike other Growth Hormone Peptides that require daily injections, MK-677 is an orally administered growth hormone secretagogue that has been researched and proven in human studies to substantially increase IGF-1 and Growth Hormone in male subjects. A double-blind placebo study resulted in a 60.1% increase in serum IGF-1 levels in 6 weeks and a 72.9% increase at 12 months, proving its sustainable efficacy as an oral secretagogue.


MK-6-7 utilizes a sublingual delivery system in which the flavored tablet is placed under the tongue to dissolve. The connective tissue beneath our tongue is host to an abundance of capillaries where the active compound MK-677 is rapidly diffused into the bloodstream.