Quick Links to Best Prices Price History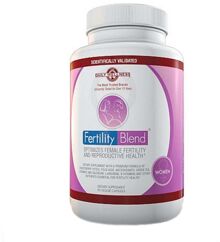 Daily Wellness Company Fertility Blend for Women
Daily Wellness Company Fertility Blend for Women Description
Optimizes Female Fertility and Reproductive Health
Dietary supplement with a premium formula of chasteberry (vitex) folic acid, antioxidant, green tea vitamin # and selenium, L-Arginine, B Vitamins and other nutrients essential for fertility health
A scientifically validated nutritional bland that helps enhance fertility health. Vitex agnus-castus (chasteberry herb) helps support good hormone balance and normal ovulation. The antioxidants green tea, vitamin E and selenium, help enhance reproductive health. The amino acid L-Arginine helps maintain a healthy uterine lining. Vitamins B6 and B12, folic acid, iron, magnesium and zinc also help maintain fertility health. Adequate amounts of folic acid may reduce the risk of neural tube birth defects when consumed as part of a healthy diet-before and during early pregnancy.
Directions


As a dietary supplement, take a total of 3 capsules daily. If possible, it is best to spread the dosage out through the entire day. Use for at least 3 menstrual cycles before expecting a significant benefit to fertility health. Can be taken for as long as needed to get pregnant. You may want to have your partner take FertilityBlend for Men. At least 50% of fertility issues are due to male factors. You may also want to check with a doctor to determine whether there are any physical causes for low fertility that can be corrected by standard medical procedures. Do not take with Clomid or other fertility drugs. Discontinue use one pregnancy has been confirmed by a doctor.

Lifestyle changes often are helpful in increasing chances for conception.  Smoking, caffeine and alcohol consumption, excessive or insufficient body weight, and stress have all been related to reduce fertility in women. Reproductive organs are highly susceptible to free radical or oxidative damage from environmental toxicants and natural aging. A balanced nutritional diet and nutritional supplements with a high antioxidant content can help minimize some of this damage.
Free OfArtificial flavors, colors and preservatives.