Warning: This product is not currently available at any store.
Click the button above and PricePlow will email you when the first store has it in stock!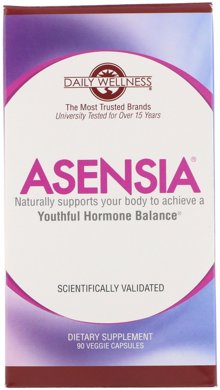 Daily Wellness Company ASENSIA
ASENSIA
Naturally supports the body to achieve a
Youthful Hormone Balance
All women experience hormone decline due to aging. That natural decline is accelerated by exposure to environmental contaminants and hormone treated foods (endocrine disruptors).
Here are some of the signs:
Weight gain around hips and waist
Poor skin, hair, or nails
Moodiness
Mental fogginess
Poor sleep
Worsening PMS
Hot flashes (if at that stage)
Look and feel young again. Address hormone imbalance at its source with ASENSIA
Shown in a major university study to safely improve progesterone levels, overcoming "estrogen dominance"
Natural, contains no hormones. Supports a woman's body to produce its own hormones toward a more Youthful Hormone Balance
Most women see and feel noticeable results within 30 days when taken daily*
Over the past 15 years, the Daily Wellness Company has been committed to supporting randomized, double-blind, placebo-controlled studies on its formulas, considered the gold-standard of scientific validation. In such a study conducted at Stanford University School of Medicine, the treatment group taking the ASENSIA formula demonstrated significant clinical improvement in progesterone levels. (Progesterone is the key hormone in overcoming estrogen dominance and the effects of endocrine disrupters.) This study was published in The Journal of Reproductive Medicine, 2004; 49(4): 289-93 and in Clin Exp Obstet Gyncol 2006; 33C4; 205-8.*
* These statements have not been evaluated by the Food and Drug Administration. This product is not intended to diagnose, treat, cure, or prevent any disease.