Quick Links to Best Prices Price History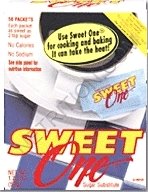 Cumberland Packing Sweet One
Sugar substitute
Low carb
Kosher
Cumberland Packing Sweet One is an alternative for people who are limitingtheir intake of sugar. Sweet One tastes like sugar and it doesn't break down in heat,so you can cook with it. Best of all, it has zero calories.
Sweet One is a brand of sugar substitute sweetened with acesulfame potassium(also known as acesulfame-K or ace-K), an intense sweetener that is 200 timessweeter than sugar.
While each packet of Sweet One contains the sweetness of two teaspoons ofsugar, this sweetness does not increase proportionately when using Sweet One incooking and baking. The substitutions in the chart below were specially devisedto adjust for the unique properties of cooking and baking with Sweet One.
In recipes for sweetened sauces and beverages, all the sugar can be replacedwith Sweet One. However, recipes for most baked goods require sugar for propervolume and texture. For best results, experiment by substituting half the amountof sugar in a recipe with the sweetening equivalence of Sweet One.