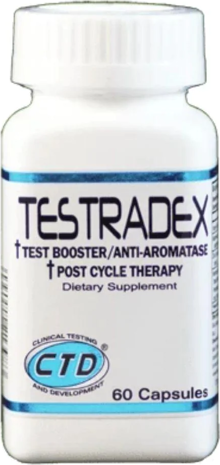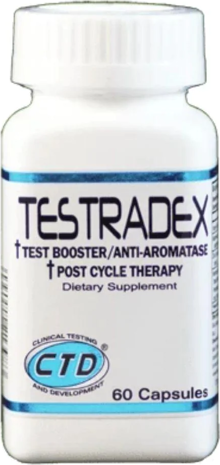 The ingredients in Testradex are designed to support:
Lean Mass
Testosterone Production
Libido and Sex Drive
Reduction in Estrogen
Testradex is the premier post cycle therapy blend on the market.
Testradex is formulated to help optimize the production of testosterone while reducing estrogen levels in the body. This results in increased muscle mass, strength and sex drive. Testradex works best when stacked with CTD Labs Kre-Alkalyn and CTD Labs Noxivol. Testradex is also ideal for people just coming off a prohormone cycle. Testradex works best when taken with CTD Labs Multi-Elite and Omegathin.

Supplement Facts:
Serving Size: 2 Capsules
Servings Per Container: 30
CTD Labs Testradex Ingredients:
Vitamin B6 3.5mg
Magnesium (as aspartate) 150mg
Zinc (as monomethionine and aspartate) 10mg
Testradex Blend 445mg
[Bulgarian Tribulus (20% protodiascin), Chrysin (5,7-dihydroxyflavone), Tongkat Ali Powder, 6 Bromo Androst 1,4 Diene 3, 17 Dione]
Direction for Use: as a dietary supplement, take 2 capsules at bedtime. Do not exceed 4 capsules daily in a 24 hour period. Do not take for more than 8 weeks continuously without a 4 week break. Store in a cool dry place.
Note: Manufacturers continually change product specifications. While we try our best to keep product descriptions up to date, they do not necessarily reflect the latest information available from the manufacturer. We are not responsible for incorrect or outdated product descriptions and/or images.

These statements have not been evaluated by the Food and Drug Administration. This product is not intended to diagnose, treat, cure, or prevent any disease.