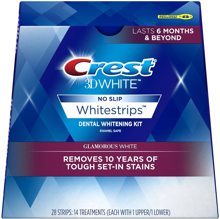 Crest 3D White Advanced Vivid Whitestrips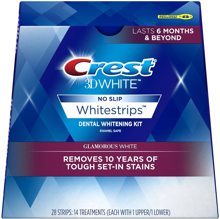 Crest 3D White Advanced Vivid Whitestrips
Formally known as Crest Whitestrips Advanced Seal
Crest&reg 3D White™ Professional Effects Whitestrips&reg provide professional level whitening.
Results last up to 12 months. Featuring Advanced Seal Technology, these no-slip Whitestrips allow you to talk, drink water and go about your day while you whiten with no sticky mess.
Use for 30 minutes, once a day for a stand-out smile. Plus, you'll start seeing results after just 3 days. Full results after completion of kit.
Crest's&reg best at-home whitening is as effective as $500 in-office whitening treatments. Plus, the professional level whitening results last up to 12 months
Advanced Seal technology allows you to talk, drink water and go about your day while you whiten and the Whitestrips&reg won't slip or leave behind messy residue
Enamel safe and easy application. Same whitening ingredient dentists use
Start seeing a whiter smile after just 3 days
Longer bottom strip is designed to reach more teeth for better coverage
Fits each person's unique smile and comes off clean
Give yourself a smile makeover with professional level whitening results at home with just 30 minutes, once a day for 14 days
Keep out of the reach of young children. Product is not intended for use in children under the age of 18.  Do not swallow plastic strip. Eye contact: Avoid eye contact. Rinse eyes thoroughly with water if gel comes in contact with them. Skin contact: Handle strips with dry hands. Gel that comes into contact with the skin can cause temporary skin irritation and/or whitening. Wash hands with soap and water after applying the strips.
If you have dental work: Crest Whitestrips Advanced Seal will Only Whiten Natural Teeth. It will not whiten caps, crowns, veneers, fillings or dentures. Crest Whitestrips Advanced Seal is designed to hold well to teeth. Do not use on loose teeth or temporary or loose restorations. Do not use with dental braces. If you have dental work or staining from medication, ask your dentist to determine if whitening is appropriate.
Tooth Sensitivity: Some people may experience sensitivity when using Crest Whitestrips Advanced Seal - this is temporary and not harmful. See insert for more information.
Avoid contact of gel with cloth, leather or fabric. Store in cool place. Best if used by date noted on package.
* These statements have not been evaluated by the Food and Drug Administration. This product is not intended to diagnose, treat, cure, or prevent any disease.