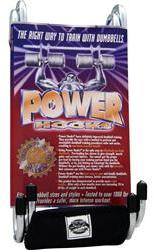 Country Power Power Hooks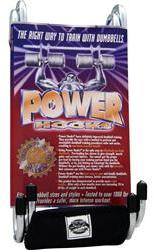 Country Power Power Hooks
Power Hooks Description from Country Power
Country Power Inc. is the manufacturer of Power Hooks, which is a patented and trademarked product. Power Hooks stay with your dumbbells and hang onto any overhead barbell. This puts you in proper lifting position without having to lift the dumbbell from the floor nor having to drop them back onto the floor after the exercise. Power Hooks also provide a better way to handle and spot dumbbells.

Country Power wants to point out, that using Power Hooks is the only way to effectively pre-load dumbbells. The easiest way to understand pre-loading is to imagine barbell benches which hold the weight above the head before we bench. Do you think you could work out with the same intensity taking the barbell from the floor? By being able to take the barbell off the uprights you get a pre-load. This allows the nervous system to be ready for the lift; therefore, you're able to handle much more weight resulting in maximum exercise benefit. Pre-loading has shown to give strength and muscle gains and prevent injuries. You cannot get the proper pre-load by having your training partner hand you the dumbbells, or by you kicking up (clearing) the dumbbells. Without the pre-loading you cannot train with the intensity that someone can with Power Hooks. You know you can push much more weight then you can clear. There are dumbbell benches on the market but they have many problems that in actuality Power Hooks have solved. One problem is that dumbbell benches have fixed lifting points. This means you have to take the dumbbells from a fixed point and after working out with the dumbbells return the dumbbells to the same fixed point. Even if you can adjust the dumbbell bench to a good lifting position, returning the dumbbells to the same point could be very difficult. Power Hooks do not have fixed points, you can start the lift and end the lift from any position on the barbell.