Warning: This product is not currently available at any store.
Click the button above and PricePlow will email you when the first store has it in stock!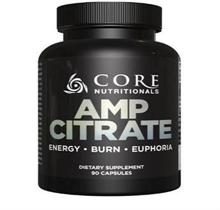 Core Nutritionals AMP Citrate
Core Nutritionals AMP Citrate | Now on sale at

Energy/Burn/Euphoria

AMP Citrate can increase mental energy, physical energy, and focus as it is a powerful central nervous system stimulant. These effects alone can help a wide range of people from athletes to students and even parents trying to keep up with young children. There is also evidence that it is able to heighten senses and feelings of euphoria.

The compound can stimulate the release of Dopamine, a powerful neurotransmitter and brain chemical that is vitally important in a number of cognitive effects. This also accounts for the feelings of euphoria. Plus, extra Dopamine in the system means improved cognition and mental focus and concentration.

AMP Citrate is also an effective fat burning supplement. Taken with caffeine, this supplement is an effective fat-burner; however, individuals should be careful with dosages when combining multiple stimulants.

These statements have not been evaluated by the Food and Drug Administration. This product is not intended to diagnose, treat, cure or prevent any disease.