Warning: This product is not currently available at any store.
Click the button above and PricePlow will email you when the first store has it in stock!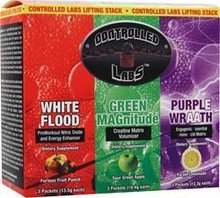 Controlled Labs Lifting Combo
Lifting ComboDescriptionfromCONTROLLED LABS
Try out the ultimate Controlled Labs Triple Lifting Stack consisting of White Flood (Fruit Punch), Green MAGnitude (Sour Apple) and Purple Wraath (Lemonade). This box set comes with 3 packets of each product so you can get a feel for how this stack will work for you without having to buy all 3 full sized products first.
WHITE FLOOD
Supplement Facts
Service Size: 6.75 Grams
Servings Per Container: 6
Ingredient
Amount
% Daily Value**
Calories
0
-Calories from Fat
0
Calcium
113mg
11
Potassium
18mg
1
Folate
125mg
31
Selenium
50mcg
71
eNO Flood Complex
1500mg
-L-citrulline, L-Ornithine and L-carnitine-L-Tartrate
FlooDurance Complex
1200mg
-Betaine-Alanine(as CarnoSyn) and L-Tyrosine
Live Energy Complex
2165mg
-Beet Root, Gamma-Aminobutyric Acid(GABA), Glucuronolactone, Natural Caffeine, Potassium Gluconate,
-Cocoa Bean (Extracted for 99% Methylxanthines), Evodia Rutaecarpa (95% Evodiamine Extract),
-L-Norvaline, Sugar Cane (Extracted for 60% Octacosanol), Vinpocetine, Zeaxanthin, Cryptoxanthin,
-Lutein, Folic Acid, Selenium, Huperzia Serrata (Extracted for 99% Huperzine A)
** Percent Daily Value is based on a 2000 calorie diet. Your daily values may be higher or lower depending on your calorie needs.
† Daily Value not established.


GREEN MAGnitude
Supplement Facts
Service Size: 10.4 Grams
Servings Per Container: 3
Ingredient
Amount
% Daily Value**
Calories
0
-Calories from Fat
0
Green Creatine Matrix
5000mg
-2CM Dicreatine Malate and Magnesium Creatine Chelate (MCC)
Betaine Anhydrous
2000mg
L-Taurine
2000mg
L-Tyrosene
500mg
** Percent Daily Value is based on a 2000 calorie diet. Your daily values may be higher or lower depending on your calorie needs.
† Daily Value not established.


PURPLE WRAATH
Supplement Facts
Service Size: 12.3 Grams
Servings Per Container: 3
Ingredient
Amount
% Daily Value**
Calories
0
-Calories from Fat
0
Niacin
10mg
50
Vitamin B6
10mg
500
Potassium
67mg
2
PurplEAA Complex
7000mg
-L-Leucine, L-Valine, L-Isoleucine, L-Lysine, L-Arginine, L-Histidine, L-Threonine, L-Methionine,
-L-Phenylalanine
PurplEndurance Complex
2700mg
-Beta-Alanine(as CarnoSyn), Citrulline Malate, Betaine Anhydrous, Ginger(from root), L-Norvaline
** Percent Daily Value is based on a 2000 calorie diet. Your daily values may be higher or lower depending on your calorie needs.
† Daily Value not established.


Ingredients:
Other Ingredients: Citric Acid, Natural and Artificial Flavor, Malic Acid, Acesulfame Potassium, Silicon Dioxide, Sucralose and Bilberry Extract, FD&C Yellow #5, FD&C Blue #1, Artificial Fruit Punch Flavor, Calcium Silicate.

Manufacturer's Directions
Take 1/2- 1 packet of White Flood, mixed in 10-20 ounces of cold water, 30 minutes before your workout. Take 1 packet of Green MAGnitude, mixed in 6-10 ounces of cold water, 30-45 minutes before your workout (any time on off days). You may mix Green MAGnitude and White Flood in a single shake for conveniunce if you like. Take 1 packet of Purple Wraath, mixed in 10-20 ounces of cold water, and consume it throughout your workout or post workout. Consume at least 1 gallon of water per day for maximum results.

Manufacturer's Disclaimer
Before ingesting these products you should consult your doctor if you are not aware of your current health status or if you have any medical condition including, but not limited to: diabetes, high or low blood pressure, cardiac arrhythmias, stroke; diseases of the heart, kidneys, liver or thyroid gland; anxiety, history of seizures, depression, any psychiatric ailment, pernicious anemia or other blood disorders, prostate enlargement. These products are intended for adults 18-50 years of age only. The Beta Alanine in White Flood and Purple Wraath may give you a slight tingling sensation; this is a normal characteristic. WARNING: These products contain chemicals known to the State of California to cause cancer, or birth defects or other reproductive harm. Do not consume with less than the recommended amount of water or if you are prone to dehydration or are subjected to extremely hot temperatures. Do not take White Flood with any other stimulants including, but not limited to, caffeine.




Be The First To Review This Product







Similar Products

CONTROLLED LABS Green MAGnitude Sour Green Apple  1.83 lbs

Our Price $32.99

CONTROLLED LABS White Flood Reborn Electric Lemonade  222 grams

Our Price $24.99

CONTROLLED LABS Glycer Grow2   234 grams

Our Price $17.99