Quick Links to Best Prices Price History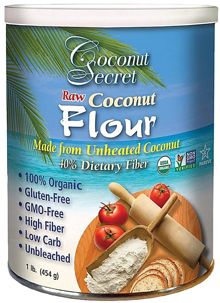 Coconut Secret Raw Coconut Flour
Raw Coconut Flour made from unheated coconut. 40% dietary fiber, 100% organic, high-fiber, low carb, unbleached & USDA organic.
The Coconut Secret Story
When both our parents suddenly became diabetic, my brother and I were deeply inspired to search the world for pure, raw, truly delicious low glycemic products. We were rewarded and blessed beyond our expectations, in our discovery of the many traditional products made from the wondrous coconut tree. It is our joy to be able to share with you the gifts of these exceptional ingredients.
Health Secrets of Coconut Flour
Our raw Coconut Flour is made in small batches, and dried using a proprietary tumbler-dry method that does not expose the coconut to high heat. Coconut Flour is an excellent source of gluten-free protein, very low carb, actually lowers the calorie content of food, contains