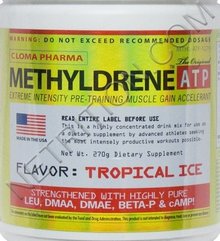 Cloma Pharma Labs Methyldrene ATP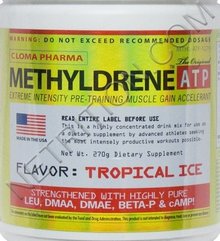 Cloma Pharma Labs Methyldrene ATP
Powerful PreWorkout - Energy, Pump & Strength Now!
• Increased Energy & Focus
• Enhanced Endurance & Stamina
• Promotes Intense Pumps
• Increased Motivation

Are you unsatisfied with the workouts you've had lately? Are you ready to experience the best workouts you've ever had?
Then the time has come to AMPlify your energy, focus and motivation with the new, ultra-powerful pre-workout by Cloma Pharma - Methyldrene AMP!

Cloma Pharma has raised the bar again with Methyldrene AMP! This powerful pre-workout features the cutting edge ingredient AMP Citrate - a powerful CNS stimulant that provides intense energy and increased focus that will power you through your workouts like never before!

Yet this is not just a stimulant-overloaded pre-workout! We haven't forgotten about the pump, greater strength or workout endurance – you will experience all of these with Methyldrene AMP!
Key Ingredients:

2-Amino-4-methylpentane (AMP) Citrate – This is a new compound that is similar to the now-banned DMAA. AMP Citrate increases energy and alertness, motivating you to hit the gym and train hard! We only use the purest AMP Citrate available.
Caffeine Anhydrous - Caffeine anhydrous is a dehydrated form of caffeine that is more concentrated than typical caffeine. It is well known as an energy enhancer and a thermogenic, not only burning fat but providing the energy to combat fatigue and power you through your toughest sets.
Micronized Creatine Monohydrate – When we decided to add creatine to Methyldrene AMP, we went with the version that has been around for decades, time tested and research proven creatine monohydrate. Creatine pulls water into your muscles, resulting in full, pumped, hydrated muscles! Creatine is also a key part of the ATP energy system that propels your muscular power.

Arginine Hydrochloride (HCl) and Arginine Alpha-Ketoglutarate – This combination means greater nitric oxide production which in turn means better pumps! This arginine complex also promotes a positive nitrogen balance – this is the anabolic state your body must be in if you want to experience muscle growth.
Alpha-Ketoglutaric Acid – This compound supplies alpha-ketoglutarate, an intermediate in the Krebs Cycle (also known as the Citric Acid Cycle).The Krebs Cycle is a series of chemical reactions that ultimately generates cellular energy in the form of ATP.
Alpha-Glycerylphosphorylcholine (Alpha-GPC) – This compound has numerous cognitive properties that help promote the mind-muscle connection which is essential for success in the gym.
Cyclic Adenosine Monophosphate (cAMP) - Derived from ATP, cAMP is a "second messenger" - a intracellular signaling molecule that's released by a cell to activate physiological changes. This exclusive ingredient enhances metabolic performance.
Fructus Shisandrae Chinensis (Shisandra Berry) – This plant acts as an adaptogen used to enhance performance and endurance.
Methyldrene AMP by Cloma Pharma – The Next Generation of Pre-Workouts Has Arrived!

Supplement Facts
Serving Size: 1 Scoop (8 Grams) 
Servings Per Container: 30 
 
Amount Per Serving 
 
Pump & Stamina Intensifying Blend - 5 Grams  
 
HPLC-Tested Micronized Creatine Monohydrate, Arginine HCl, Arginine Alpha-Ketoglutarate, Alpha-Ketoglutaric Acid 
 
Energy & Focus Intensifying Blend - 400mg 
2-Amino-4-Methylpentane (AMP) Citrate (99% purity), Caffeine, Alpha-Glycerylphosphorylcholine (Alpha-GPC), Cyclic Adenosine Monophosphate (cAMP), Fructus Schisandrae Chinensis (Schisandra Berry) 
 
Other Ingredients:  
Citric acid, malic acid, acesulfame potassium, natural and articial avor, sucralose. FD&C red 40.

Directions
To use: Mix 1 scoop with 8oz. cold water and drink 30 minutes before your workout. Take on an empty stomach. On off-days, you may take 1 scoop in the morning for energy support. Use on a 6 week on / 1 week off cycle.

Warnings
Discuss with your physician before taking if you have a medical condition or are taking any prescription medications. Stop use and discuss with your physician if any negative effects occur. Do not exceed suggested dose. This product contains caffeine. Do not combine with other stimulant-based products. Do not take within 6 hours of going to bed. Do not take if pregnant or lactating. Must be 18 years old to use this product.  Keep away from children. Store in a cool, dry place.