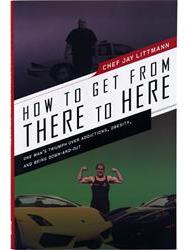 Chef Jay's How To Get From There To Here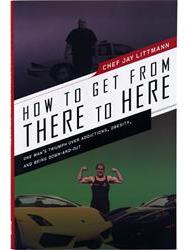 Chef Jay's How To Get From There To Here
Jay Littmann became an addict when he was just twelve years old. Thrown out of his home when he was seventeen, he succumbed to a downward spiral. With stints on the street, in jail, and in rehab, he spent the next twelve years controlled by a bottle or pipe, developing a serious weight problem and diabetes.
In How To Get From There To Here, Littmann details his life of drugs and crime and his turning point, his moment of clarity. He finally got clean for good when he was twenty nine. Searching for financial independence, he purchased a muffin shop just off the Las Vegas Strip, a move that would dramatically change his life.
When Littmann bluffed his way into a sale of his healthy oat bar to a nationally recognized chain, he had to fill the order for thousands by hand. Thus was born Chef Jay's Food Products, now an internationally recognized brand that sells millions of healthy products each year. Jay has been clean and sober for nearly two decades, is in the best shape of his life, and no longer suffers from diabetes.
Chef Jay's memoir is more than just a story; it's a blueprint for how to succeed even when it seems the chips are stacked against you.